During the nine long months of pregnancy, many beauty routines and cosmetic procedures have to be put on hold. Once you've finally made it through to the other side and your beautiful newborn is in your loving arms, there will undoubtedly be times when sleep deprivation and the stress of new motherhood will show on your face and excess weight show on your body. As a new mum, you might be excited to get back to your favourite beauty regimens or try something new. But for nursing mums, concerns over which treatments are safe and which are not will continue—if, not escalate.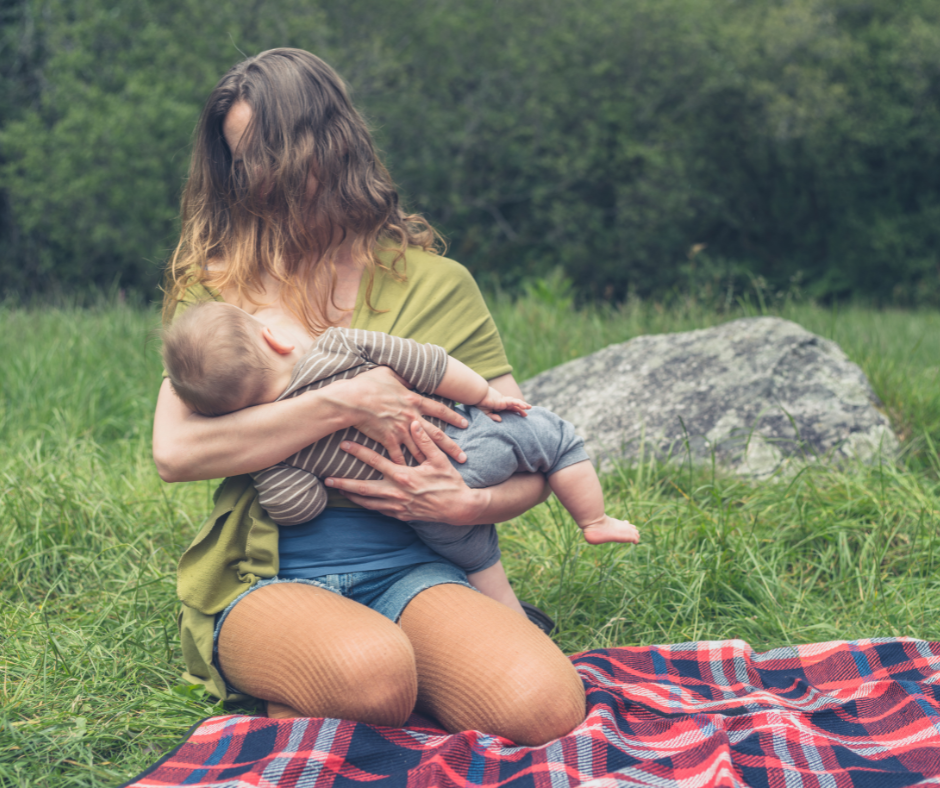 Book Your Appointment Today!
New mothers generally drop approximately 5.5 kilos (12 pounds) as the uterus shrinks, but some stubborn fat persists long after giving birth. But it's important not to be so tough on yourself. If you're worried that your body hasn't 'bounced back' right away, that's because it's not supposed to! You're a human being—not a rubber band, and your body isn't going to just snap back into place as if nothing even happened. It takes time.
Weight reduction timelines vary from person-to-person, and depend on a variety of circumstances like how much weight was gained during pregnancy, whether the mum is breastfeeding, diet and exercise habits, and activity level. For lactating mums, the time it takes to get back to pre-pregnancy physique can be even longer and more unpredictable as the body is still producing nutrients for the mum and her growing baby.
There is good news, however. While many of the fat-reduction and other cosmetic treatments that were off limits during pregnancy are also not recommended for the nursing mum, there are some treatments that are safe and available while breastfeeding.
The most important thing to know when discussing cosmetic procedures while breastfeeding is the potential risk of chemicals being absorbed into the mother's system and then into breast milk and whether they can be harmful to a baby's development.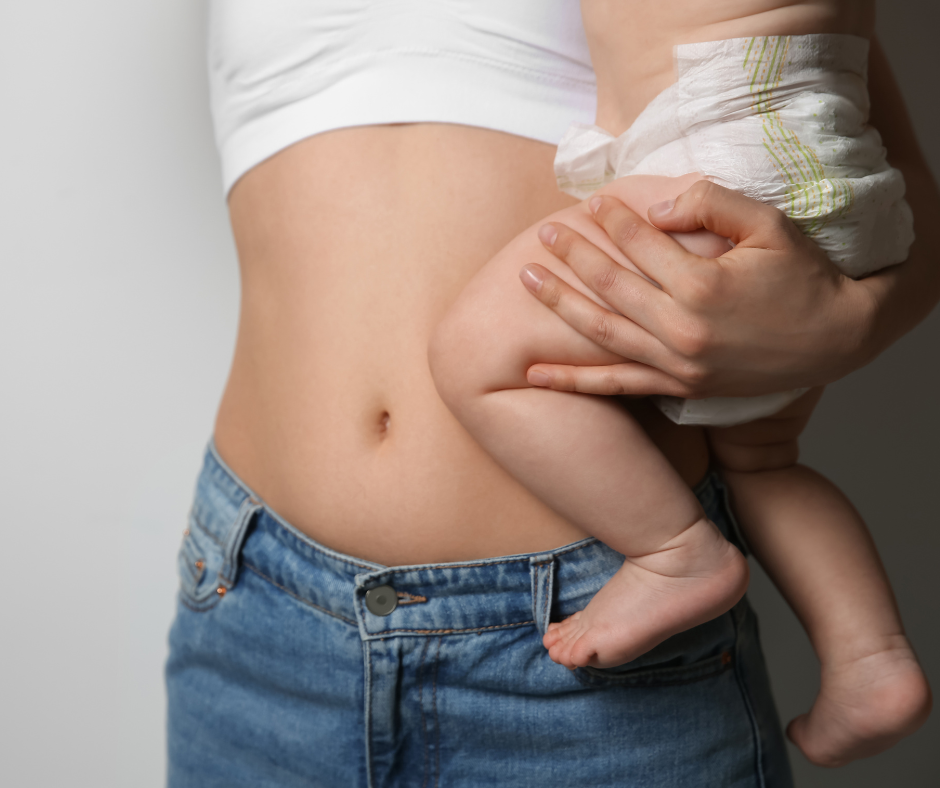 What Science Says
According to two articles published in Dermatological Surgery and the International Journal of Women's Dermatology, some cosmetic procedures are safe to use during lactation because there is little concern for significant systemic absorption of any of the agents used in these procedures.
Coolsculpting
CoolSculpting is not recommended for lactating mums because frozen fat cells that are destroyed and removed by the body during the CoolSculpting procedure could potentially make their way into a mother's breast milk. It is highly recommended that lactating mothers should wait until they've finished breastfeeding before having a CoolSculpting procedure. But always consult your physician.
Breastfeeding may also result in hormonal changes. As a new mum's hormones settle, the body tends to shift, resulting in unfavourable outcomes. To achieve the best outcomes, it's advisable to wait around 6 months after nursing.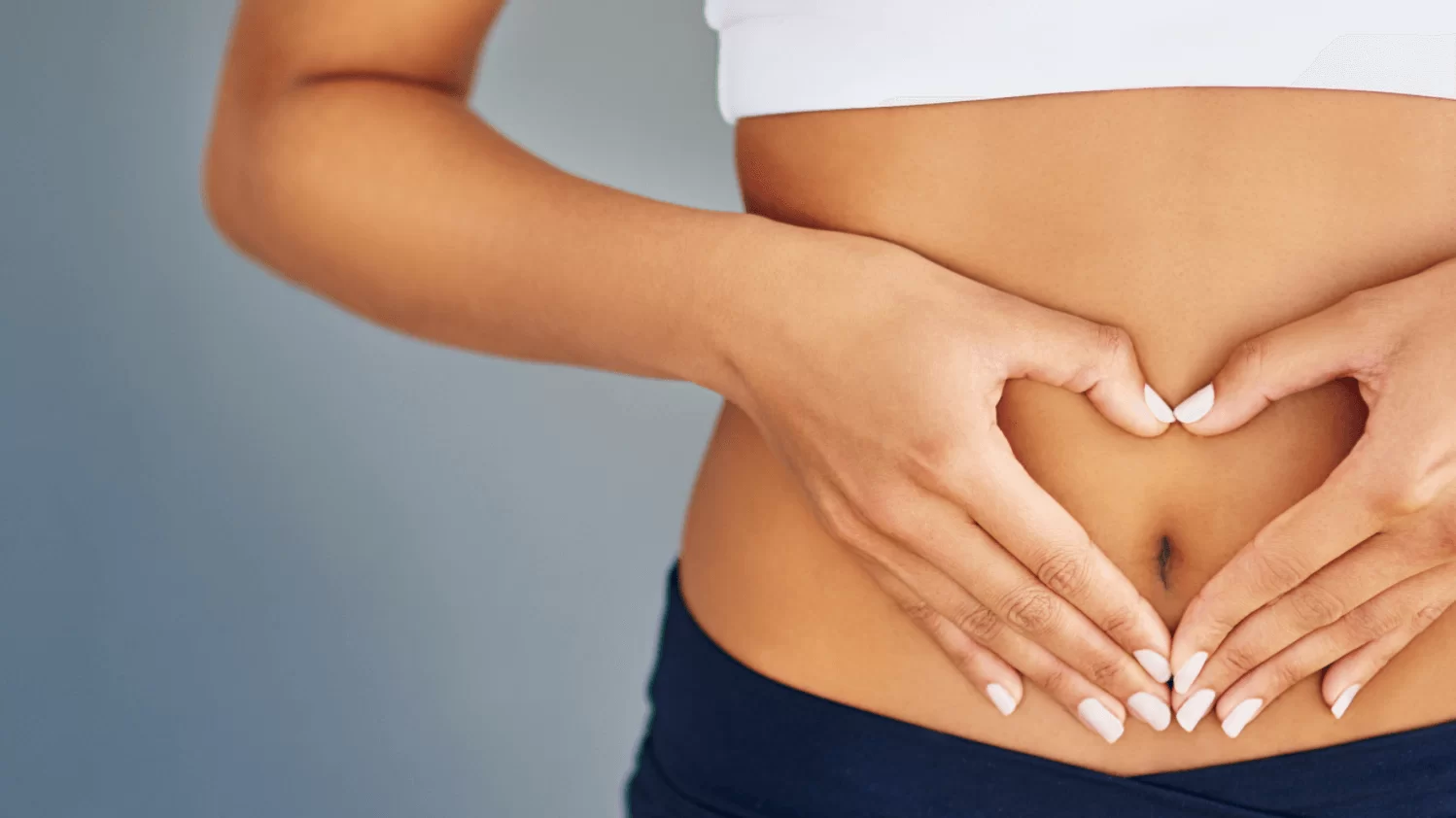 TruSculpt for Nursing Mums
While fat-reduction treatments of any kind are not recommended during pregnancy, non- invasive procedures like TruSculpt iD on areas of the body other than the breasts are safe and effective while nursing, there is often a period of weight loss that naturally comes with breastfeeding often a period of weight loss naturally with breastfeeding after pregnancy. After this period, TruSculpt iD can be a great method of melting stubborn fat in many areas.
Just like the case with the treatment of fat, many pregnancy-related cosmetic conditions will settle or change in the months after giving birth, so it may be worth waiting until hormones are back to normal and regular diet and exercise routines are resumed. Pregnancy is a magical time and the truth is, the most important thing is the health of the baby, but if after dropping a majority of your pregnancy weight you still have areas of stubborn fat that won't go away with diet and exercise alone, truSculpt iD is an excellent solution for nursing moms.
Book Your Appointment Today!
What is truSculpt® iD?
TruSculpt iD is a non-surgical, non-invasive fat reduction procedure that uses radiofrequency energy to improve body definition, boost skin tightening, and destroy fat cells throughout the entire fat layer, from just below the skin down to the muscle. It's commonly used to contour multiple areas including the abdomen and flanks, inner and outer thighs, the chin, and the upper arms. An alternative to invasive procedures like abdominoplasty or liposuction surgery, truSculpt does not involve the use of scalpels or stitches, and can be done in an office setting without anaesthesia, pain, or downtime in less than one hour.
TruSculpt iD uses innovative monopolar rf technology to target fat cells selectively in treatment areas. Using a handpiece the device is placed over the targeted area, while pulses of energy cause fat cells to heat up and shrink, promoting skin contraction for a slimming and smoothing effect. Easily adjusted to conform to each patient's needs, the level of heat can be adapted, so each person feels comfortable and experiences very little to no pain.
TruSculpt iD is a clinically proven, highly effective, and completely safe treatment that permanently eliminates fat cells from even the hardest-to-reach areas. truSculpt® iD is the only TGA-approved device of its kind that offers a non-invasive treatment option for body sculpting and fat reduction, resulting in the dream body everyone desires. It has been clinically proven to permanently reduce fat by up to 24% in as little as one treatment. Additional treatments may be required depending on fat thickness, skin type, number of treatment areas, and whether the patient has previously undergone other contouring procedures.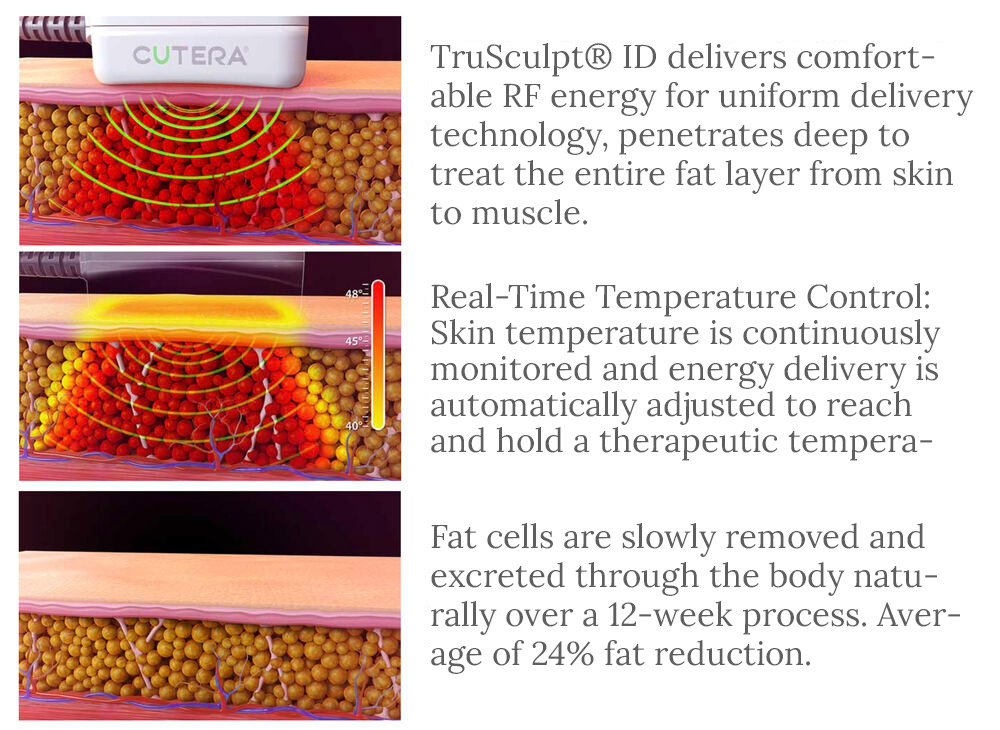 TruSculpt Procedure
By delivering radio frequency energy through the skin, fat cells absorb the energy in the form of heat, effectively destroying the unsightly fat without harming the skin at all. Once destroyed, the body naturally takes over and flushes out the old fat cells through the lymphatic system.
The procedure, which takes from 15 to 60 minutes, depending on the number of areas being treated, feels like a warm sensation on the skin, similar to a hot stone massage. Patients have not reported any pain or discomfort during the procedure and no prescription pain medications, cooling gels, or compression garments are required. Mild redness, swelling, and tenderness can last for approximately 10-12 hours, for which patients are advised to take mild OTC analgesics such as Tylenol.
How Many Treatments Required
TruSculpt iD treatment requires 2 sessions, 4-6 weeks apart. Maximum results are visible after approximately 10-12 weeks, however some patients begin to see improvement after as little as 4 weeks.
TruSculpt Aftercare
The zero-downtime benefit makes TruSculpt iD a very appealing option for busy new mums. Drinking lots of water is important. It helps the fat cells travel through the lymphatic system and start to digest throughout the body.
There are no restrictions on exercise or normal activities associated with being a new busy mum with TruSculpt iD treatment area.
When Will I See Results After truSculpt Body Sculpting Treatments?
The procedure takes just a few minutes, and you can expect to see full results 6-12 weeks after your last treatment–that's the amount of time your body needs time to clear away the destroyed fat.
With TruSculpt iD, nursing mothers can get the results they desire, even in areas that have been resistant to diet and exercise. One of the main advantages of TruSculpt iD is that it is a simple and comfortable procedure, requiring no anaesthetic, no downtime, and maybe most importantly, it is safe while breastfeeding.
Common Areas of TruSculpt Treatment
Thanks to the size of the handpiece, TruSculpt iD can address a variety of concerns and target hard-to-reach areas of the face, upper arms, inner thighs, abdomen, flanks, and back regardless of loose skin or skin laxity.
Common Concerns Addressed by TruSculpt iD:
Belly fat
Love handles (flanks)
Inner and outer thigh fat
Back fat
Wobbly upper arms
Butt fat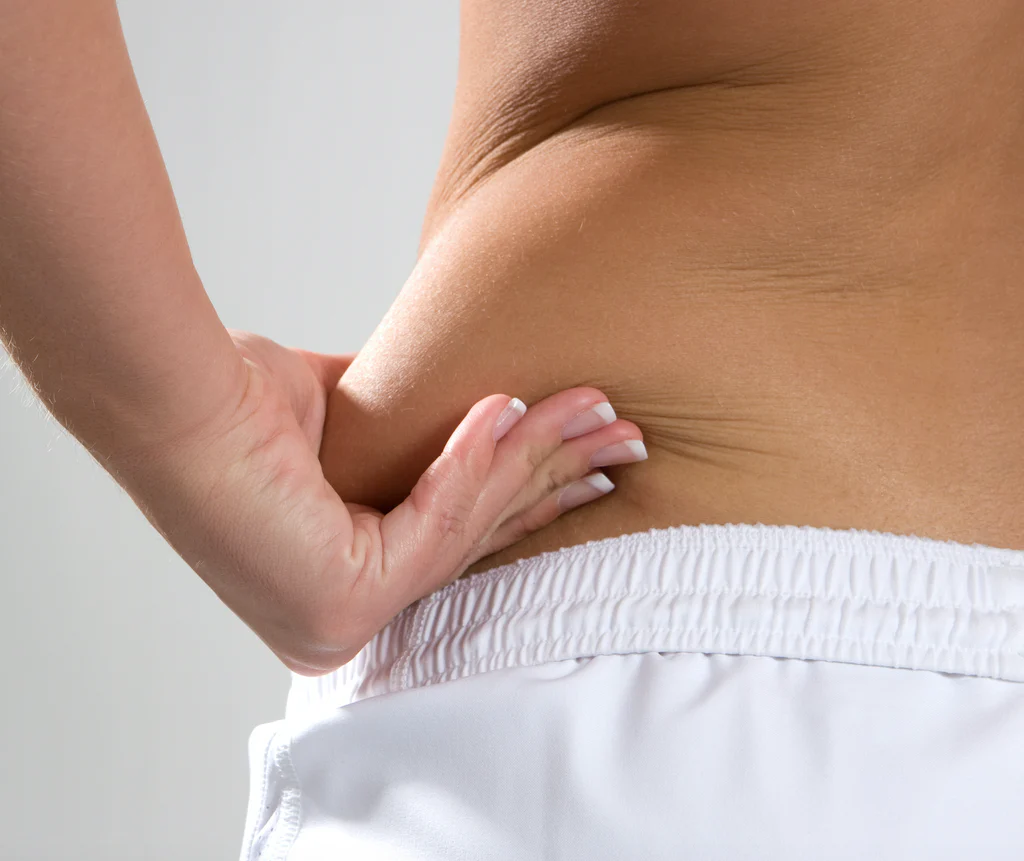 Book Your Appointment Today!
If you're struggling with stubborn post-pregnancy fat on your abdomen, flanks, inner or outer thighs, or upper arms, you're not alone. Thanks to TruSculpt iD, a slimmer look can be yours in just a few minutes. The number of TruSculpt iD treatments required varies from person to person. That's why we invite you to give us a call to set up a consultation. Once we have an idea of your goals, we'll come up with an appropriate treatment plan that works for you. Because the procedure is non-invasive, there's no downtime or recovery period. You simply come in, sit back, and let us work our magic. Then you can get on with the rest of your day as if nothing has happened.
At Specialist Skin Solutions, a cosmetic clinic specialising in non-surgical fat-reduction procedures, we proudly offer truSculpt® iD, the latest in state-of-the-art fat melting, body chiselling techniques.
We believe in transparency and education first and foremost, providing every client with information, explanations, and treatment options before performing any procedure. Offering a thorough consultation prior to treatment, we'll discuss the areas of concern and the range of treatment options suggested to produce optimal results.
And because the number of TruSculpt iD treatments varies from person to person, we'll create an individualised treatment plan, discuss our pricing structure, and explain in detail what you can expect both during and after the procedure.
At Specialist Skin Solutions, we're dedicated to helping new mums feel their best by bringing out their natural beauty and loving the skin they're in. We look forward to speaking with you!
If you have specific questions, call us at 02-4934-1700.
*Disclaimer: How many treatments to achieve maximum results may vary. Always seek medical advice and clearance before opting for any procedure, especially while breastfeeding. This article is meant strictly for informational purposes only. truSculpt® iD results vary. There are risks with any procedure. Follow your provider's directions to the letter to stay safe and to ensure you'll have the best results.