An exciting new brow trend, laminated brows are neatly-polished, bushy, thick brows, becoming as convenient and affordable as beautifully styled hair, are becoming more accessible in Australia everyday. From trimming and tidying to completely transforming, creating the beautiful frame to your face you've always wished for is simple, painless, and readily available.
If you're new to the world of brow enhancement all together or if you're just wondering about the possible side effects of brow lamination, you've come to the right place. In this article we'll talk about what to expect during a brow lamination appointment; the risks, benefits, and side effects of this treatment; as well as what, if any, its effects on sensitive skin may be. A non-invasive brow smoothing treatment, brow lamination softens and repositions the natural brow hairs to create a fuller and smoother, yet natural look with minimal post-service maintenance.
A salon technique similar to a lash lift, some people compare laminated eyebrows to a hair gel for the eyebrows that doesn't leave behind a residue or wash off. A similar effect to DIY brow lamination or brow soap, the process involves using a styling cream that allows brushed up brows to be swept into a uniform direction and create a desired shape, making unruly brows growing in different directions appear neat and sparse areas look full for several weeks. Lamination can make your brows look bushy, cover up gaps, and reduce the appearance of thinning.
Book Your Appointment Today!
How does brow lamination work?
Brow lamination is a semi-permanent cosmetic treatment, performed by a brow expert, that involves applying a chemical solution to the natural brows to reshape the brow area and setting the eyebrow hairs in an upward position to create a fuller appearance and a laminated effect. Similar to a lash lift, brow lamination permanently sets the brow hairs, and ultimately reimages the frame of your face.
Brow lamination works by chemically breaking down the bonds in the eyebrow hairs, allowing them to be reshaped and set in a uniform direction.
It's worth noting that brow lamination is not suitable for everyone, and it's important to consult with a trained brow expert before undergoing the treatment.
What happens during brow lamination?
The brow lamination process (also referred to as brow shaping or brow lifting) is a chemical process for the brow hair which reshapes the brow, creating a more desirable face shape. Brow lamination involves lifting and rearranging the natural hairs by using a perm solution that sets brow hairs upwards.
If you've had other brow treatments, it's best to wait 4 to 6 weeks before getting your brows laminated for the best results. Even if you think you don't have enough hair, don't worry! The more natural your brow hairs are, the better because a blank canvas allows brow artists to create masterpieces.
What to expect during your brow lamination appointment
The bonds in your brow hairs are broken with a fixing solution applied onto clean eyebrows.
The brow artist then brushes and straightens the hairs into the desired position.
The solution is covered with plastic wrap. How long the solution stays on depends on the thickness of the client's natural brow hair.
A setting solution can be used for repositioning hair bonds to a new shape.
The entire procedure takes approximately 45 minutes to an hour.
Ready to take the plunge and go for it? Call Specialist skin Solutions today to set up an appointment.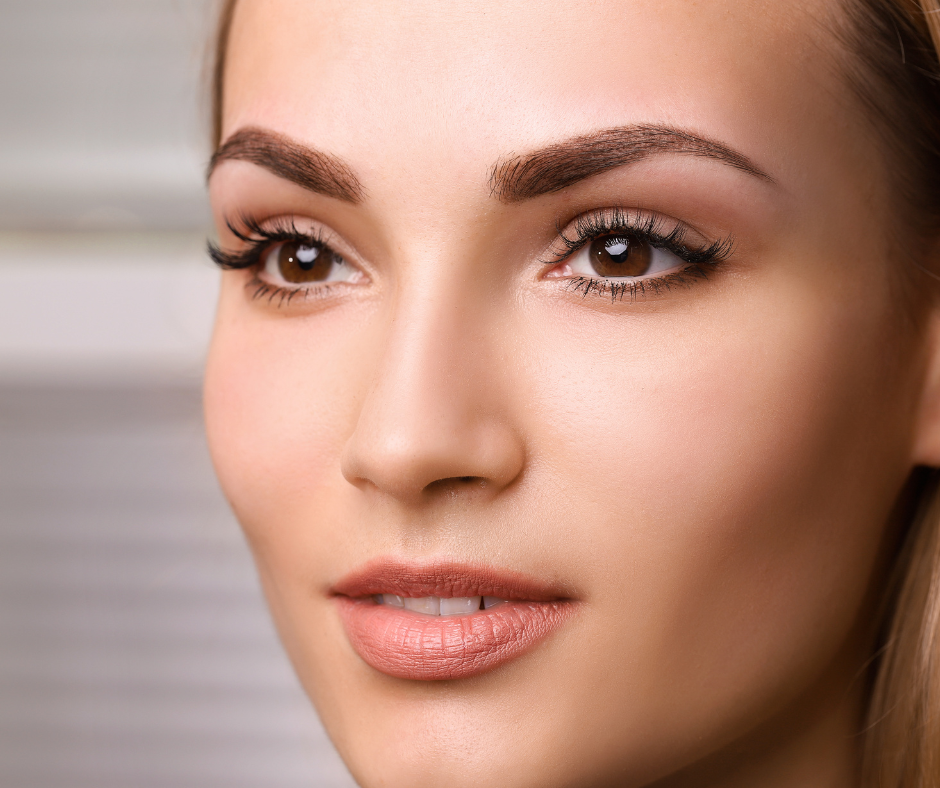 Pros and Cons of Brow Lamination
Although eyebrow lamination has several advantages over other brow enhancement treatments, there are also some disadvantages.
Pros of Brow Lamination
Enhanced appearance: Brow lamination can give eyebrows a fuller, thicker, and more defined look. It can also help eyebrows to appear more symmetrical and even.
Longevity: Brow lamination can last up to six weeks or more, depending on the individual's hair growth cycle. This is much longer than traditional methods like waxing and tweezing.
Less hassle during morning routine: Brow lamination requires minimal upkeep when compared to other eyebrow treatments like tweezing, or waxing. Simply brush your brows into place each morning and use a nourishing serum to keep them healthy, and you're ready to go.
Time-saving: Because you don't have to worry about constantly fixing or touching up your eyebrows, brow lamination can make your morning routine easier, freeing you up to do other things.
Non-invasive: A safer and less painful alternative to microblading or other permanent makeup techniques, brow lamination is a non-invasive treatment, requiring no knives or needles.
Painless: Because no cutting or injections are involved, brow lamination is a completely pain-free treatment.
Effective for all brow types: Brow lamination can be used on all types of eyebrows, including unruly, sparse, and asymmetrical brows. It can also help cover up bald spots or gaps in the eyebrows.
Affordable: Brow lamination is less expensive than other treatments at the outset, though the treatment must be repeated about every 6-8 weeks.
Ready for fuller, fluffier, and more beautiful brows? Book online today!
Cons of Brow Lamination
While brow lamination is a popular eyebrow enhancement technique, there are some potential cons to consider.
Here are some of the cons of brow lamination:
Shorter lifespan: While brow lamination can last up to six weeks or more, other treatments like microblading can last for up to 18 months.
Not permanent: While brow lamination sets the existing brow hairs in place, it is only semi-permamnent.
Less precise: While brow lamination helps shape and define the brows, it's not as precise as microblading.
Not for people with sparse or very thin brows: Brow lamination may not be suitable for people with very thin or sparse eyebrows, as there may not be enough hair to work with.
Risk of irritation for sensitive skin: Because brow lamination involves the use of chemicals, it can cause irritation or an allergic reaction, making it a less than desirable solution for people with sensitive skin.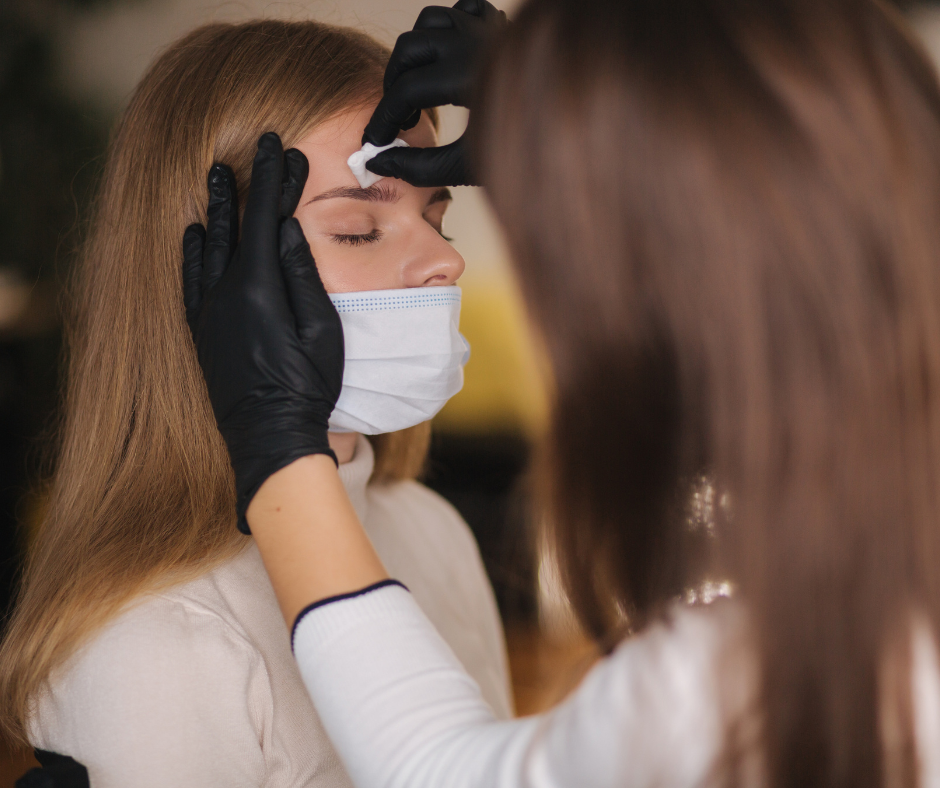 What are the side effects of brow lamination?
Even though brow lamination is non-invasive, it still involves to use of a chemical process, so some people may face minor side effects like swelling, redness, peeling, itching and bumps. The side effects are generally related to skin irritation caused by the solutions applied to the brows to create the laminating effect. Skin irritation is the most common side effect especially after the very first session. To prevent skin irritation, your brow specialist will give you some brow lamination aftercare instructions to follow to keep these minor irritations to a minimum.
Ready for fuller, fluffier, and more beautiful brows? Book online today!
Is brow lamination safe for thin eyebrows?
Perfectly safe, and when done properly, brow lamination can help to prevent thin eyebrows and give an appearance of more volume and length.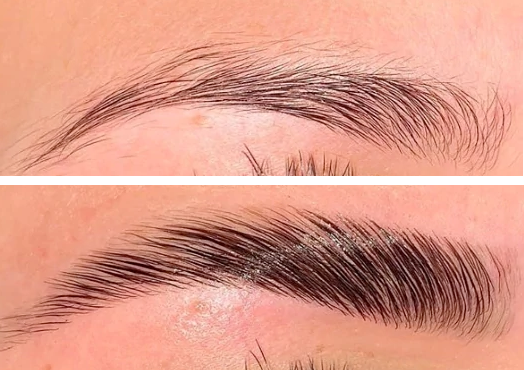 How long does brow lamination take?
The eyebrow lamination procedure can last from 45 – 60 min depending on your type of hair.
Is Eyebrow Lamination Safe on Sensitive Skin?
Because the harshness of the brow lamination solution those patients with sensitive skin may be at risk for irritation.
How long does eyebrow lamination last?
How long laminated brows last depends on your hair cycle. For most clients, the lamination should last up to eight weeks. For more information about the service itself, check out our blog post, The Eyes Have It: 5 Things You Should Know Before Your FirstBrow Lamination Treatment that covers brow lamination from A to Z.
Is brow lamination painful?
A patch testing test is normally performed before treatment is carried out to check for allergies. Though not painful, brow lamination doe not involve needles, but there are rare side effects caused by the perming solutions that can cause itching or swelling.
Ready for fuller, fluffier, and more beautiful brows? Book online today!
Does brow lamination work on thin brows?
"I think eyebrow lamination can work very well with sparse brows because hair will cover brow gaps and fill brows, which will not make the brows look larger."
Can you wear make-up after brow lamination?
When it comes to wearing makeup after a brow lamination, here's the deal. To ensure you get the gorgeous results you want, it's a good idea to stay away from wearing makeup, especially on and very close to your brows. This goes for face masks, serums, creams, or lotions that could get too close to your brows. After the first 24 hours, you can go back to applying makeup and skincare products, even self-tanning products.
Try to book your appointment on a day that you can go home and take it easy. Since it's a good idea to avoid sweating, take a day off from the gym. This way you won't have to worry about putting on makeup and possibly affecting the results of your brow lamination.
Is eyebrow lamination safe on sensitive skin?
Because the harshness of the perming solution used at this lamination process, certain people who are sensitive to certain harsh chemicals.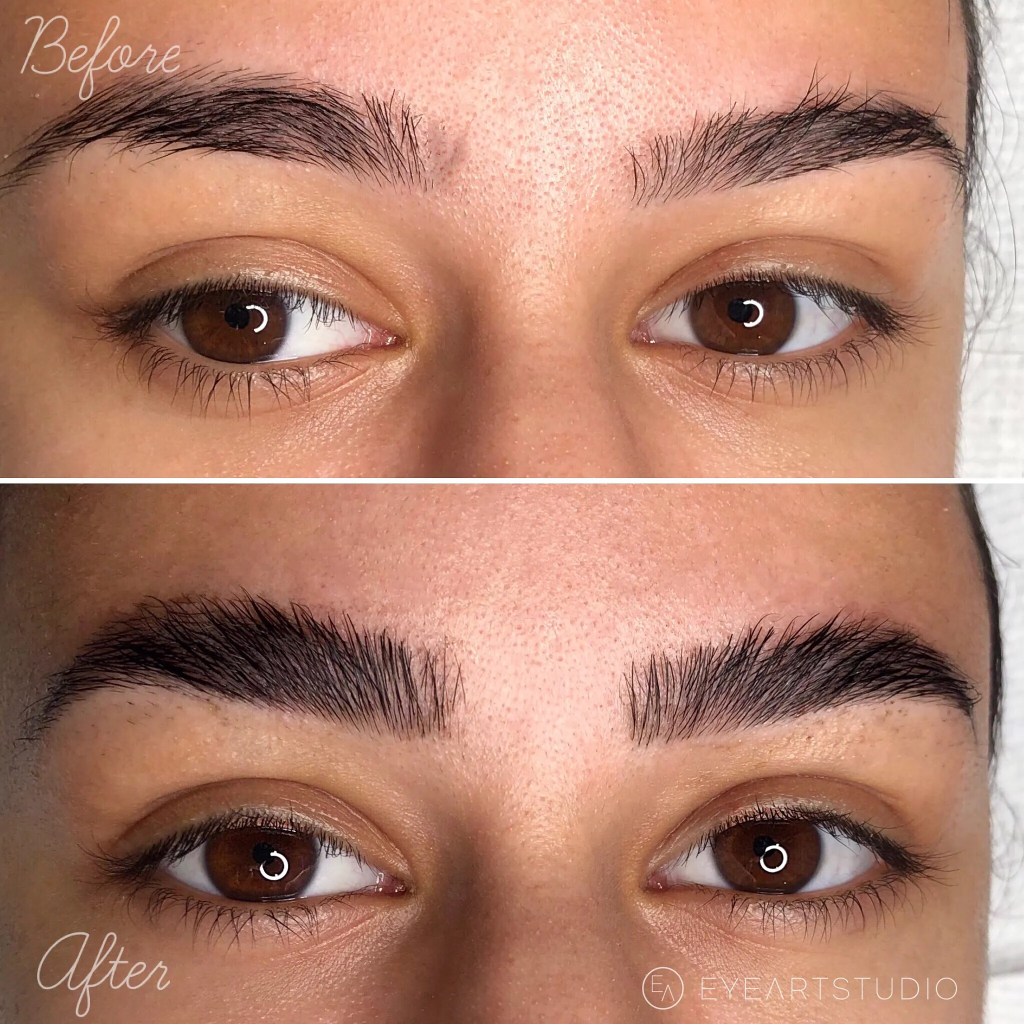 Book Your Appointment Today!
Where can I get brow lamination?
Our customers asked for it, so we made it happen. Introducing our exciting new eyebrow and lash bar—an exquisite one-stop destination for Eyebrow Lamination, Brow Tinting, Henna Brows, Eyelash Tint, and Lash Lifts.
Luxurious and uninterrupted "me time" will take over the moment you walk in the door as our professional brow artists will work with you to find the perfect custom lash and brow look for your unique eyes, face shape, and lifestyle.
It's amazing how a small change can make a huge difference. If you're ready to simplify your morning routine and look and feel youthful, confident, and beautiful, you're ready for our lash and brow services that will make you feel ready to take on the world.
Specialist Skin Solutions is a skincare clinic that specializes in a full menu of anti-aging and beauty treatments design to help you love the skin you're in.
With personalized guidance with brow artists who share your passion for beauty, we offer you the latest treatments, technology and products in two ultra comfortable, modern, contemporary settings.
Our elite team of brow experts rely on cutting-edge treatments and years of training to administer brow lamination and other lash and brow treatments with the utmost precision and care in a relaxed, upscale setting.
Ready for fuller, fluffier, and more beautiful brows? Book your appointment today!
How Much Does Brow Lamination Cost?
For a complete list of rates for brow lamination and other services, see our service page.