The eyebrows are the frames of the face, and you have genetics to blame if yours don't create a masterpiece. For as long as women have been turning to beauty treatments and applying makeup, the only way to alter the shape of the eyebrow was to use dangerous wax, painful tweezers or awkward mini shavers.
And to make matters worse, as we age and our eyesight begins to fade, so does the amount of natural brow hairs, leaving you with sparse brows, thin brows, and stray hairs—making the perfect pluck nearly impossible.
Every generation has had its brow trends. From the over-plucked tadpole brows of the 90s to the barely there brows of the 50s, brow style in 2023 is all about thick, fluffy, straight, an bold.
This new and increasingly popular brow trend, called brow lamination and it's raising eyebrows all over social media. As celebs and influencers turn to brow lamination for fuller looking brows that create a desired face shape or control unruly brows, it's now possible for you to achieve the desired look in less than an hour.
Book Your Appointment Today!
What is brow lamination?
Thanks to an innovative new brow lamination treatment that is easily accessible in 2023, impeccably styled eyebrows are just as attainable as beautiful designed hair. Treatments that will do everything for you from trim and tidy your brows to complete transforming them, creating the beautiful face frame you've always dreamed of, is simple, painless, and affordable.
If you're a newbie to the world of brow lamination, have no fear! We've got you covered. Brow lamination is a non-invasive brow treatment that softens, repositions, and sets your natural brow hairs to create a fuller and smoother, yet natural look with minimal post-service maintenance.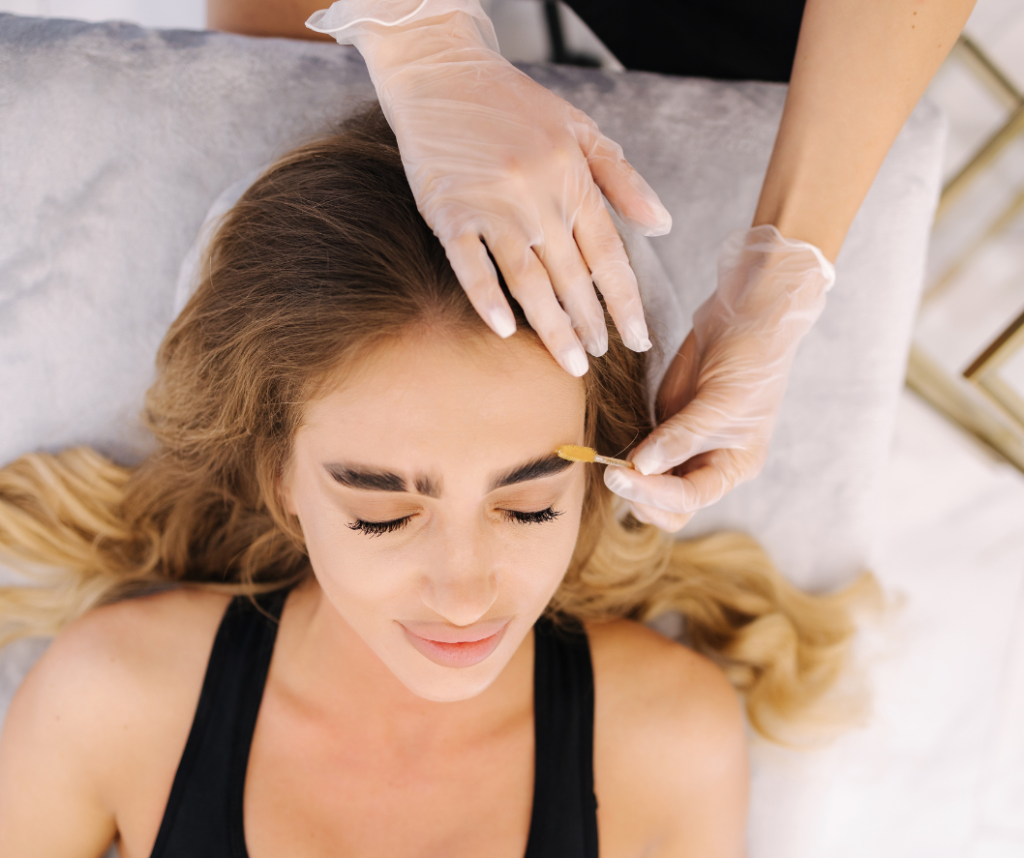 How does brow lamination work?
Similar to a brow perm, brow lamination is a semi-permanent cosmetic treatment, performed by a brow expert, that involves applying a chemical solution to the natural brows to reshape the brow area and setting the eyebrow hairs in an upward position. Similar to a lash lift, brow lamination permanently sets the brow hairs, and ultimately reimages the frame of your face.
Brow lamination works by chemically breaking down the bonds in the eyebrow hairs, allowing them to be reshaped and set in a new direction.
The result is a fuller, more defined brow shape that lasts for up to eight weeks. The process is painless and typically takes around 30-45 minutes to complete.
It's worth noting that brow lamination is not suitable for everyone, and it's important to consult with a trained brow expert before undergoing the treatment.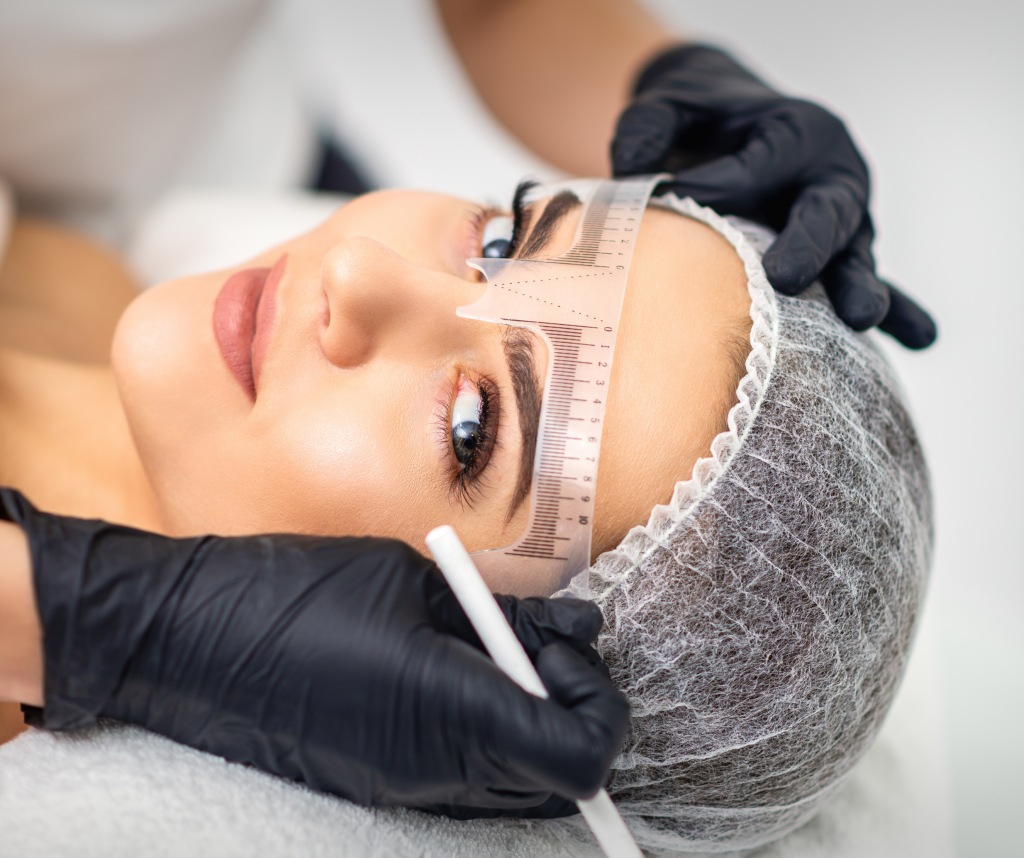 What happens during brow lamination?
The brow lamination process (also referred to as brow shaping or brow lifting) is a chemical process for the brow hair which reshapes the brow, creating a more desirable face shape. Brow lamination involves lifting and rearranging the natural hairs by using a perm solution that sets brow hairs upwards.
If you've had other brow treatments, it's best to wait 4 to 6 weeks before getting your brows laminated for the best results. Even if you think you don't have enough hair, don't worry! The more natural your brow hairs are, the better because a blank canvas allows brow artists to create masterpieces.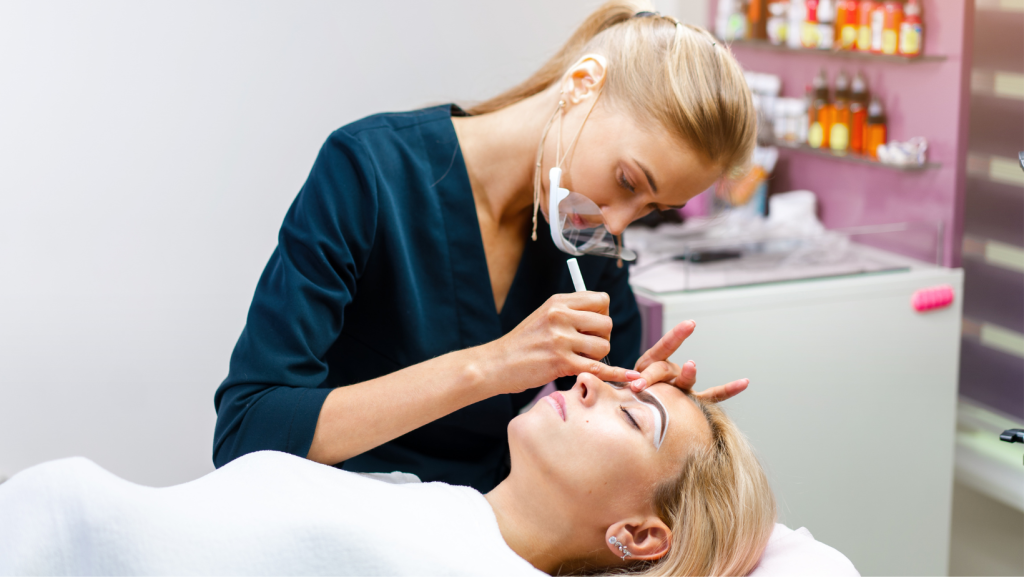 What to expect during your brow lamination appointment
Your brow hair bonds will first be broken down with the application of a fixing solution.
The brow artist then brushes and straightens the hairs into the desired position.
The solution is covered with plastic wrap. How long the solution stays on depends on the thickness of client's natural brow hair.
A setting solution can be used for re-positioning hair bonds to a new shape.
The entire procedure takes approximately 45 minutes to an hour.
What do laminated brows look like?
Laminated eyebrows look straighter, thicker, and smoother, and can be personalized according to your facial shape. It's also an excellent alternative for anyone who needs help with repairing the problem eyebrows. Giving your brow artist a list of brow styles and a few inspo photos will help turn tour thin brows into fluffy brows.
Ready to take the plunge and go for it? Call Specialist skin Solutions today to set up an appointment.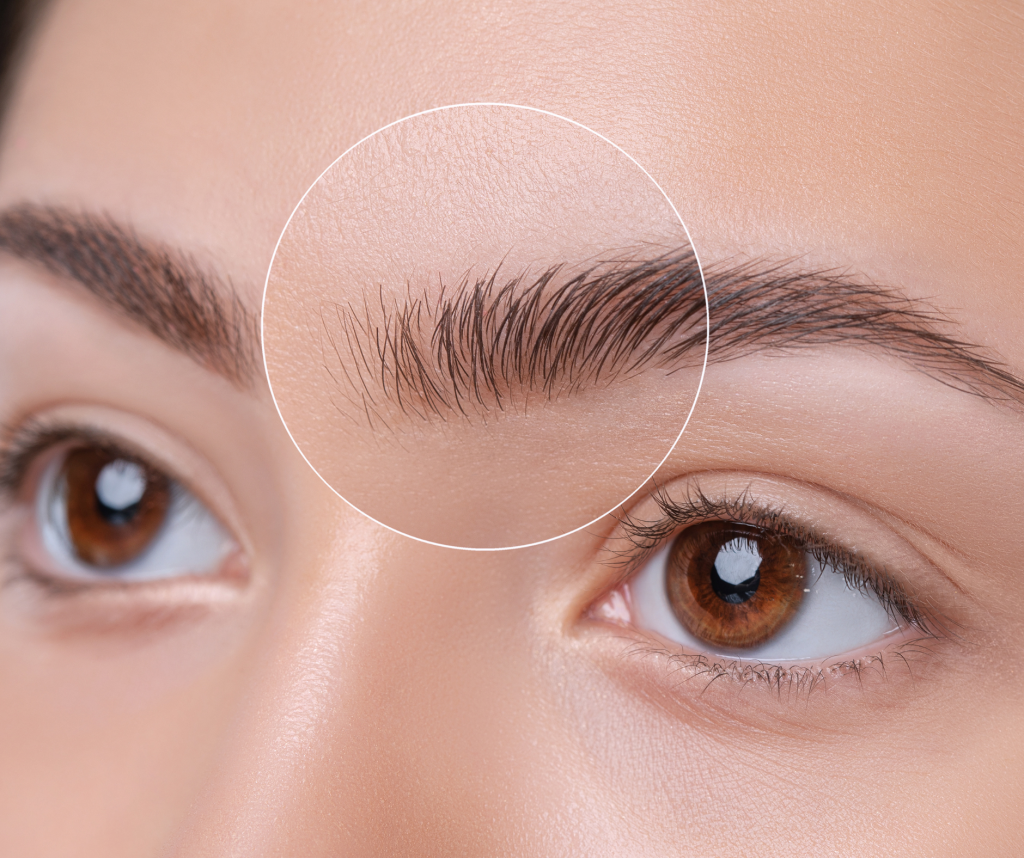 How Long Does Brow Lamination Last?
How long laminated brows last depends on your hair cycle. For most clients, the lamination should lasts up to eight weeks.
For more information about the service itself, check out our blog post, The Eyes Have It: 9 Things You Should Know Before Your First Brow Lamination Treatment that covers brow lamination from A to Z..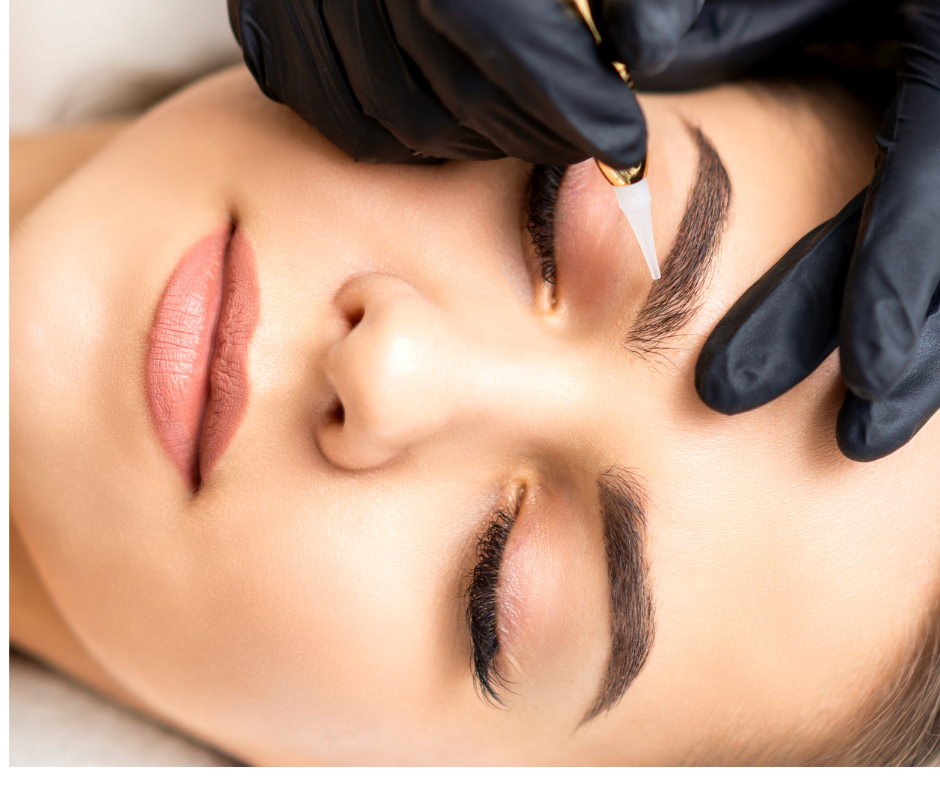 What are some aftercare tips for brow lamination?
Congratulations! You finally went through with it and got your eyebrows laminated. Now what? We've put together a few tops to follow after your treatment to keep those beautiful brows looking better than ever!
The First 24 Hours!
After your brow lamination appointment, there are some dos and don't to follow during the first 24 hours.
DON'T: Touch or rub your eyebrows.
DON'T: Get your brows wet—this includes showers, baths, swimming pools, and steam rooms.
DON'T: Lie face down while sleeping.
DON'T: Engage in activities that make you sweat (IOW, you have permission NOT to go to the gym that day!)
Book Your Appointment Today!
Can you wear make-up after brow lamination?
If you've ever wondered about wearing makeup after your brows are laminated, we've got it covered. To be sure your brows stay as gorgeous as they are on the day of treatment, we recommend that you refrain from wearing makeup, especially directly on or close to your brows for the first 24 hours. This goes for any skincare products like masks, serums, self-tanning creams, or moisturizers. After the first full day, you can go back to applying makeup and skincare products as you normally would.
We also suggest that you book your appointment on a day that you can relax and take it easy. Because it's highly recommended that you avoid getting your new brows wet, we also suggest that you avoid any activity such as cardio, pilates, or other classes at the gym that cause you to sweat. Yes, we are giving you permission to take the day off from working out! We just want you to get the absolute best results of your brow lamination.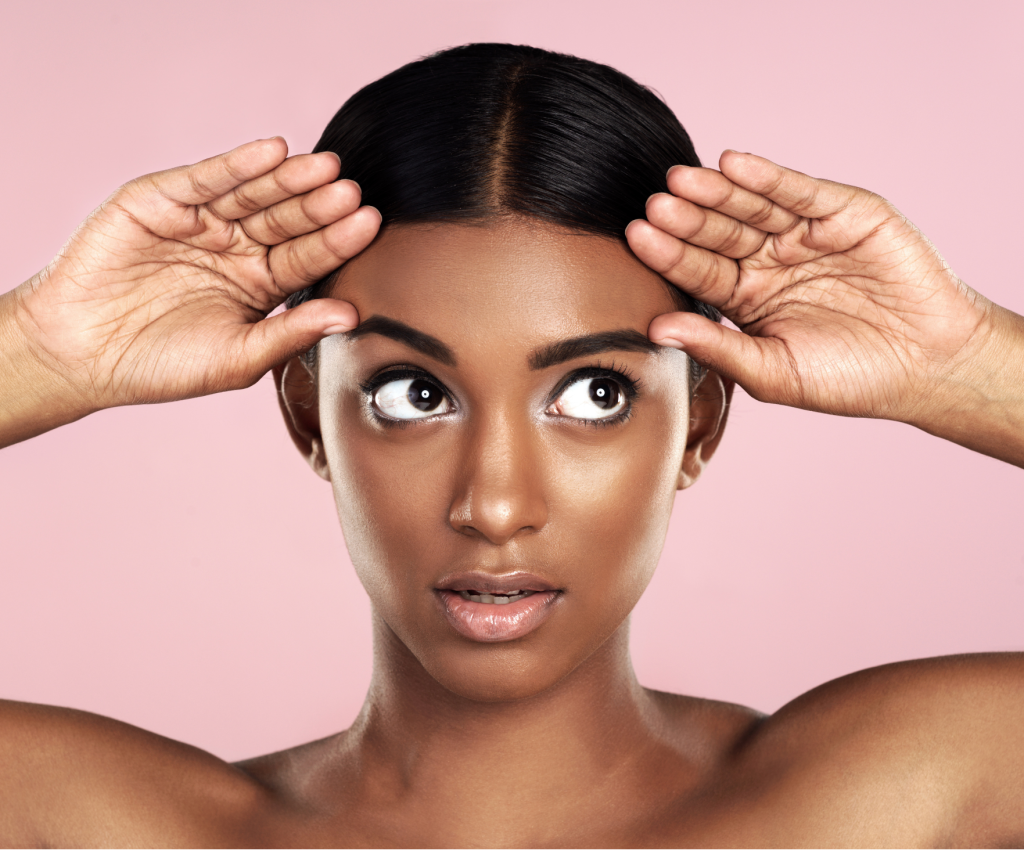 Where can I get brow lamination?
Specialist Skin Solutions is a skincare clinic that specializes in a full menu of anti-aging and beauty treatments design to help you love the skin you're in.
With personalized guidance with brow artists who share your passion for beauty, we offer you the latest treatments, technology and products in two ultra comfortable, modern, contemporary setting.
Our customers asked for it, so we made it happen. Introducing our exciting new eyebrow and lash bar—an exquisite one-stop destination for Eyebrow Lamination, Brow Tinting, Henna Brows, Eyelash Tint, and Lash Lifts.
Luxurious and uninterrupted "me time" will take over the moment you walk in the door as our professional brow artists will work with you to find the perfect custom lash and brow look for your unique eyes, face shape, and lifestyle.
It's amazing how a small change can make a huge difference. If you're ready to simplify your morning routine and look and feel youthful, confident, and beautiful, you're ready for our lash and brow services that will make you feel ready to take on the world.
Our elite team of brow experts rely on cutting-edge treatments and years of training to administer brow lamination and other lash and brow treatments with the utmost precision and care in a relaxed, upscale setting. See our service page for a complete list of prices and services.