Chemical Peels
Many people come in to see us with a variety of skin issues. These can range from normal signs of aging all the way to damage from injury, sun exposure, and environmental damage. Some of the most common skin concerns are sunspots, fine lines, wrinkles, dullness, dryness, clogging, and congestion.
So many problems, so little time. That's where a chemical peel comes in. Chemical peels are available in various strengths and types to correct almost any kind of skin issue you may be having.
Light peels are designed to exfoliate your skin. These are great for:
Brightening tone
Promoting an even complexion
Clearing congested pores
Removing dead skin buildup
Giving your skin a glow before a big event
Medium to deep peels are designed to resurface your skin. These are great for:
Sun damage
Hyperpigmentation
Sun Spots
Fine lines
Mild acne scarring
Mild to moderate texture issues
Wrinkles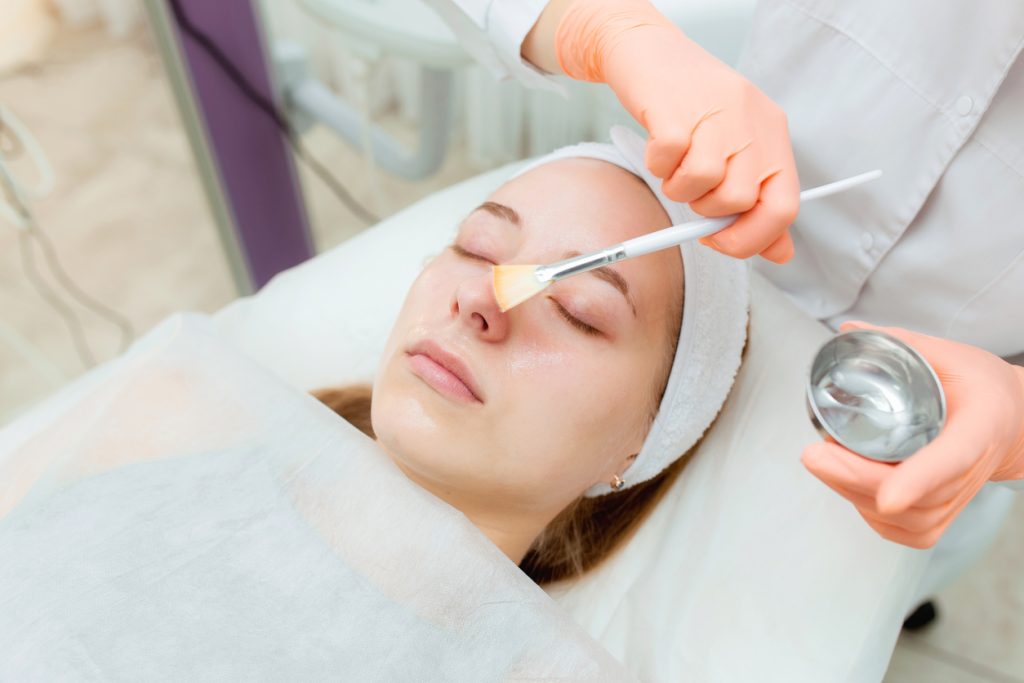 Why should you try a chemical peels instead of something else?
Unlike lasers that only have one setting, chemical peels can be customized to achieve your specific skin goals. There are many types of peels, and our skincare specialists will choose the strength and type that are right for you. This is a very personalized treatment, and the results are far superior compared to ordinary facials you might have tried in the past.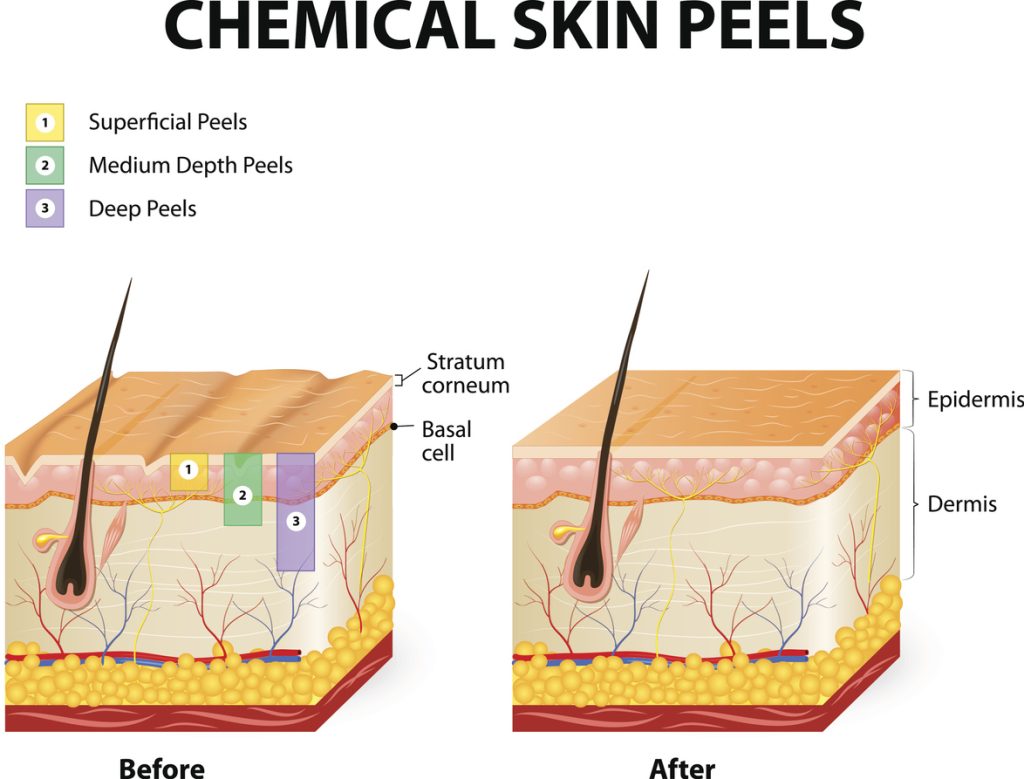 Chemical peels are also usually less costly than lasers, face lifts, PRP facials, and many other anti-aging medical treatments, so it is a great option if you want serious results on a budget. Peels are a natural way to solve a variety of skin concerns without going under the knife or getting injectables.
Another reason to try them is that they are reliable and proven to work. Chemical peels are nothing new – and that's a good thing! Of course, peels have evolved and become better over the years. That means less pain and cost overall. The bottomline, however, is that they are time-tested and deliver real results.
Types of Peels
AHA
BHA
Enzyme
Vitamin A
Non-chemical peels
Combination
What to expect during a chemical peel
Your chemical peel appointment will begin by cleaning and prepping the skin, which is a relaxing, spa-like experience. You'll wear a comfy robe and relax with your eyes closed on our cushioned treatment table while your skin gets the A-List treatment.
Next, the active peel ingredients will be carefully brushed over your skin by our trained dermal nurse. Depending on the peel, you may feel different sensations. Mild stinging, irritation, and heat can range from hardly noticeable to moderate. This varies based on the strength and type of peel.
It is important to note that even maximum-strength peels are quite tolerable, plus the active ingredients are in contact with your skin only briefly. It is all over with very quick, some just mere seconds of a little stinging. There is truly no need to fear getting a peel.
Treatment may be repeated every four weeks. Three sessions are recommended for best results.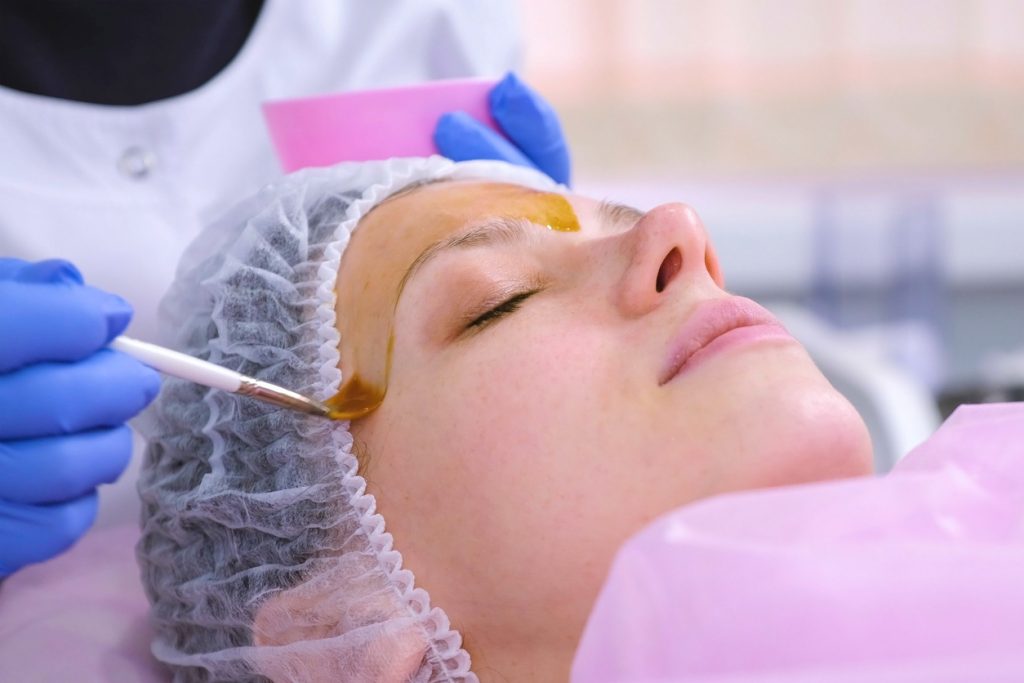 Chemical peel downtime
It is true that the strongest chemical peels, which are often reserved for the most challenging skin issues, have a moderately long downtime. However, the downtime varies considerably based on the type of peel. Though you might be worried about having to deal with red, raw, or peeling skin afterward, there are actually a variety of applications in different strengths. There are even peels with zero downtime.
Light peels can give your skin a beautifully refreshed look with no downtime at all.
Maximum-strength peels are designed to wound your skin in a controlled way. That means several weeks of red, flaky skin that will eventually transform into beautiful fresh, healthy new skin once it is healed.
Medium-strength peels are the most popular. They can make the skin look a bit red and flaky for 1 to 2 weeks. This after effects of this kind of peel is quite manageable. A little temporary redness and peeling isn't the end of the world for most people.
If you're feeling uncertain about the downtime, why not give us a call at Specialist Skin Solutions for a consultation? We will be happy to let you know the type of peel we recommend for you, along with the downtime you can expect for that particular peel.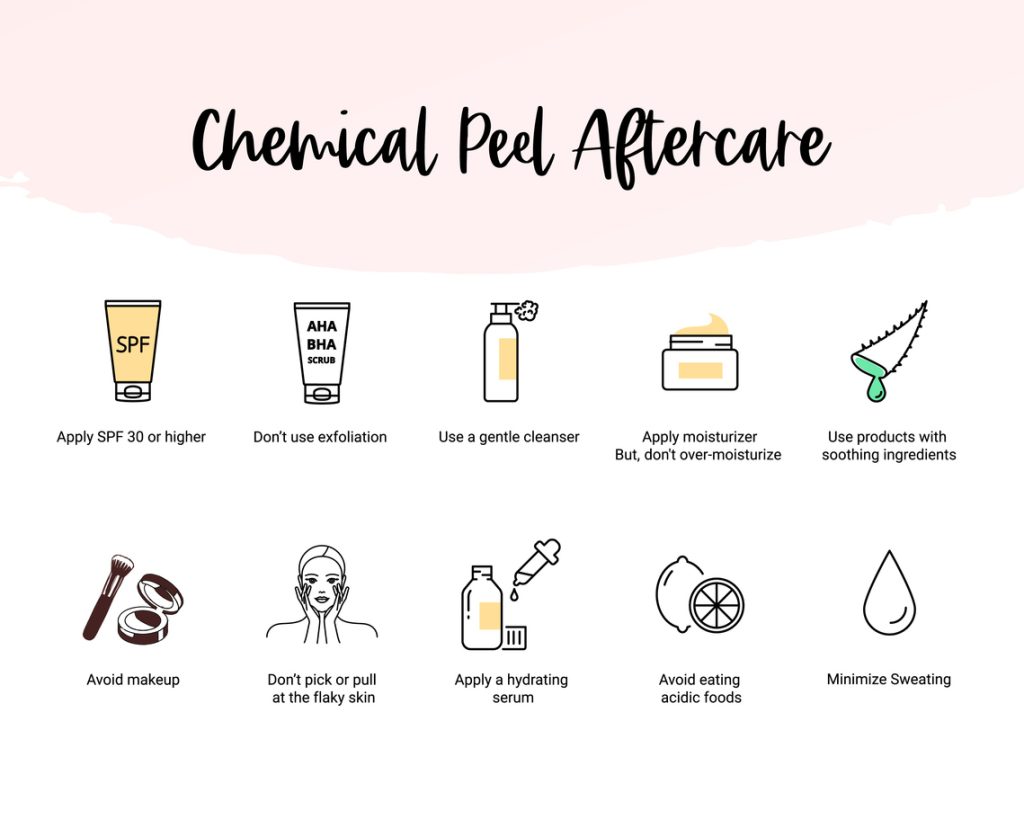 What can't a chemical peel do?
Peels are not suitable for patients with active acne, cold sores, psoriasis in the treatment area, and a handful of other conditions which our skin experts will advise you on during your appointment.
Chemical peels also have some limitations. They can make your pores appear smaller by clearing congestion, but will not change pore diameter. Certain types of scars are also unlikely to improve meaningfully with peels. Lasers or dermapen may be better for these skin concerns.