A cosmetic peel is a noninvasive in-office procedure that removes the outer layers of skin, effective for erasing signs of aging,  acne scars, and damage left from the sun. A safe and successful cosmetic treatment, peels can leave you with fewer lines and wrinkles, smoother, brighter skin, and a more even complexion. Categorized by how deeply the applied solution penetrates the skin, cosmetic peels can be either chemical or natural.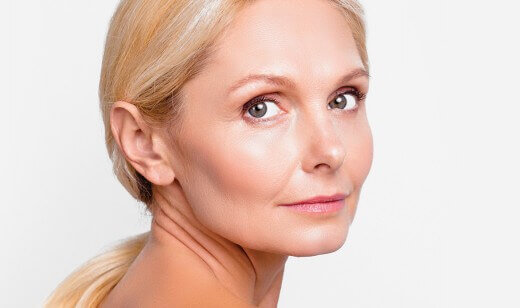 Types of Peels
Medical-Grade Peels
A medical-grade peel is an exfoliation and resurfacing treatment that gently unglues and peels away your skin's topmost layers. By inducing acute inflammation, the goal of a medical peel is to rid your face of dead, unhealthy cells and allow smooth, dynamic cells to surface.
Medical-grade chemical peels are an amazing option for individuals who are looking to reverse sun damage or other minor or major imperfections in their skin. These chemical peels allow you to remove dead skin cells and address fine lines, hyperpigmentation, and unwanted dark spots in a safe and effective way. They are extremely controlled treatments that are performed in the comfort of our office.
Not all medical-grade chemical peels are the same. They come in different strength levels and are designed to accomplish different goals. Most chemical peels are performed as an outpatient procedure, allowing you to go home immediately after the treatment is complete. They are designed to make your face look brighter, tighter and younger.
The level or grade of medical chemical peel that you use will vary depending on the color of your skin, the texture of your skin, how elastic your skin is, and the condition you want to treat. Peels come in the form of very superficial, superficial, medium, and deep.
Very superficial and superficial chemical peels are designed to be a surface-level treatment. They may get rid of some dry skin, address some problems with texture, and treat some minor discoloration in your skin. This type of chemical peel usually allows you to go on with your everyday life with little to no downtime.
Medium peels reach down further to remove the epidermis as well as the top layer of the dermis. This is generally designed to address fine lines, acne, and other facial conditions. Depending on your situation, you may need to have multiple treatments spaced out a set amount of time apart. This procedure can require a little bit of downtime, depending on how quickly your body can recover and heal from the procedure.
Deep peels affect all of the top layers as well as additional layers of the dermis. Deep chemical peels are the most intense and there is downtime associated with this peel. You will need to stay out of the sun for a period of time, and you will need to take steps to keep yourself protected as your skin recovers. This type of skin peel tends to deliver the best results and last for a long time. Deep peels are not for everyone. We will examine your skin to determine which level of medical-grade peel is best for your skin color, texture, and concerns. We will also factor in lifestyle and financial considerations before creating a treatment plan that works for you.
Book Your Appointment Today!
Deep Sea Peels
If the idea of an acid peel isn't for you, the Deep Sea Peel is the perfect alternative. Deep Sea Peels use plant extracts and sea herbs and are incredibly effective for promoting the stimulation of collagen and elastin production and cell turnover.
Deep Sea Peels utilize manual exfoliation to resurface the skin, lifting away stubborn pigmentation and softening the look of acne scarring.
The Deep Sea Peel also induces more shedding than traditional lactic and salicylic peels as it dries out the epidermis resulting in a more intense exfoliation for your skin.
The treatment level of this peel can be individually tailored to meet your personal needs as it is worked into the skin by massage as opposed to penetrating like an acid peel would, resulting in smoother, denser, and more hydrated skin.
Typically, the treatment takes around 45 minutes. You may experience a slightly shorter or longer treatment depending on your individual needs, the condition of your skin, and your comfort levels throughout the duration of the treatment.
The Deep Sea Peel can be enjoyed by most skin types provided that the skin has been correctly prepared prior to your treatment.
If you have sensitive or impaired skin, it is not recommended to have a Deep Sea Peel. This type of peel is also not recommended for pregnant clients or those currently using acne medication.
Recovery times after the Deep Sea Peel range from 4-7 days. During this period, it is normal to experience redness, heat, tingling, pin-prick sensations (similar to sunburn), and peeling. Best results are evident 14 days after treatment.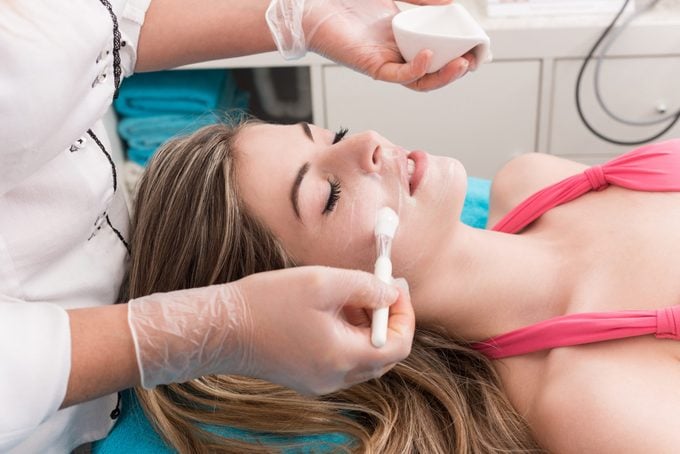 The Peeling Process
The peeling process begins with a gentle cleansing, as a defatting solvent is wiped over the area to be treated. The chemical solution is then applied and allowed to penetrate the skin for a specific amount of time, depending upon the type of peel used, the skin type, and the severity of the patient's concerns. Once the predetermined time is reached, the peel is removed, and soothing ointment is applied.
The patient is then sent home to heal. The duration of the healing process varies based on the specific type of treatment, although every patient is different.
While superficial peels don't generally require anesthesia, deeper peels may require local anesthetic or oral sedation. Cold compresses are often enough to manage pain, although patients who opt for deeper peels may prefer to have pain medication available.
Peels are commonly recommended to treat fine lines and wrinkles, uneven skin tone, and blotchy or dull complexions. Peels are also used to treat age spots, acne scars, precancerous lesions, and rough or leathery patches.
Most patients who are in overall good health can safely undergo this type of cosmetic treatment. However, anyone with darker skin should seek a doctor's recommendation before having a chemical peel, as the newly revealed layers of skin could be significantly lighter than their current skin tone.
Book Your Appointment Today!
Associated Risks and Potential Side Effects
Skin darkening or lightening, especially among people with darker skin.
Permanent scarring.
Chemical peels on rare occasions can cause fungal and bacterial infections
Persons with herpes simplex may experience a flare-up of the disease after the treatment.
Deep peels use a type of phenol that might damage the heart muscle, cause uneven heartbeats, and damage the kidneys and liver.