The eyebrows are the frame to the face, but like a beautiful painting, the final masterpiece is only complete when all of the elements come together as one. No matter how much time and effort you put into your skincare and makeup routine, if your brows aren't right, you just can't achieve the pretty picture you desire. And we know, that's a real pain!
Brow Lamination, a Game Changer
Unfortunately, most of us are not born with the thick, full, neat, and flawless brows that perfectly frame our face. So, we tint, brush, pluck, wax, and apply endless amounts of makeup to compensate. The makeup shelves are filled with an abundance of brow pencils, pens, gels, and powders that claim to create the perfect brow but if you're like most people, achieving the desired results seems almost impossible. No matter how many YouTube tutorials you watch, does it seems like the only thing you're achieving is a beautiful (and expensive) makeup collection?
Brow lamination has come along to change all of that for once and for all. The finishing touch, brow lamination will help you to achieve the desired appearance you've always dreamed of with no need for massive makeup piles, time-wasting waxing, or painful plucking. Finally, the days of sadly sparse, overly made-up, and thoroughly thin brows are in the past.
Making a name for itself all over the covers of the leading beauty magazines, thicker, fluffier, and bushier brows are having a moment, as celebrities and influencers boast their brushed brow looks across social media.
From micro needling, threading, and tattooing to tinting, perming, and blading, there are brow treatments for every budget, face shape, and skin tone.
But with so many eyebrow treatments to choose from, deciding which one is right for your eyebrows can be tricky—until now.
These days, it seems that every beauty editor on earth is zoning in on one brow treatment. Brow lamination has risen above the other brow treatments as one of the most trending brow treatments of the day. Painless, safe, affordable, and effective, brow lamination is in the spotlight, the rising star in the world of brow beauty. Celebrities and beauty gurus are all posting pix of their newly laminated brow looks across the internet. And the good news is, in 2023, it's now available to you!
Book Your Appointment Today!
How does brow lamination work?
Brow lamination is an innovative, affordable, and painless treatment that is now easily accessible, making impeccably styled eyebrow just as attainable as beautifully styled hair.
Sometimes confused with other treatments like a brow lift, brow sculpt, permanent makeup, or micro blading, brow lamination is a semi-permanent cosmetic treatment, performed by a brow expert, that involves applying a chemical solution to the natural brows to reshape the brow area and set the eyebrow hairs in an upward position.
If you've never heard of brow lamination or you're just interested in learning more about it, we're here to help! Brow lamination, sometimes referred to as a brow perm, is a completely non-invasive in-office treatment  that softens, repositions, and sets your natural brow hairs to create a fuller and smoother, yet natural look with minimal post-service maintenance.
Unlike microblading, which requires a few weeks of recovery time, you'll see the results of your brow lamination almost immediately, with just one day of aftercare involved. Similar to a lash lift, brow lamination permanently sets the brow hairs, and ultimately reimagines the frame of the face.
How long does brow lamination last?
The total brow lamination treatment takes less than one hour to complete and lasts for up to eight weeks, making it one of the simplest, quickest, and most-effective brow treatments available today.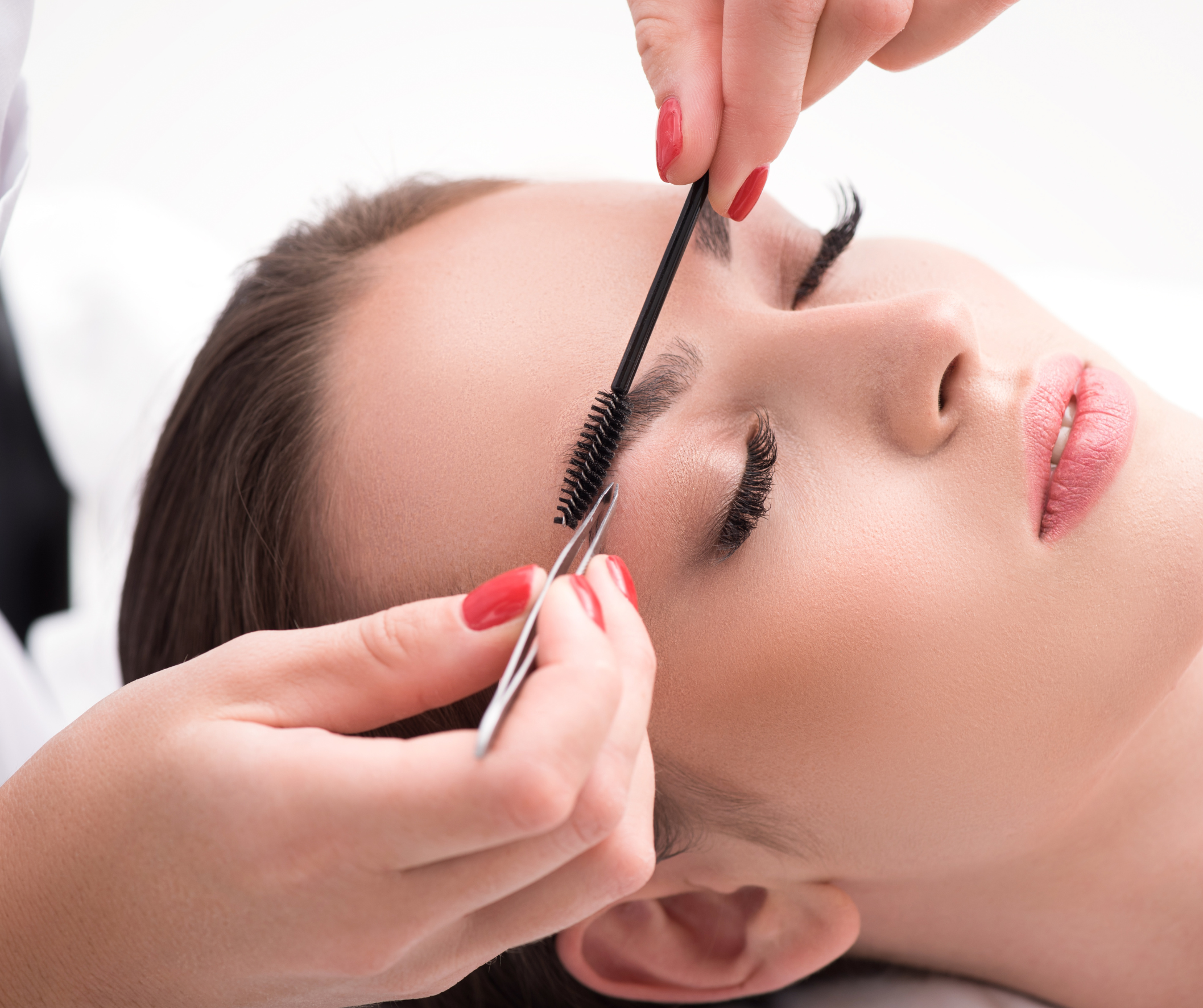 Does brown lamination hurt?
If you've ever wondered, "does brow lamination hurt?" we're here to put your fears to rest. Eyebrow lamination may sound a bit intimidating, but it's really a very simple, safe, gentle, and extremely effective brow trend that uses setting, straightening, and fixing solutions to tame unruly brows, add texture to sparse brows, make thin brows thick, and sculpt the natural brow into a flawlessly desired shape.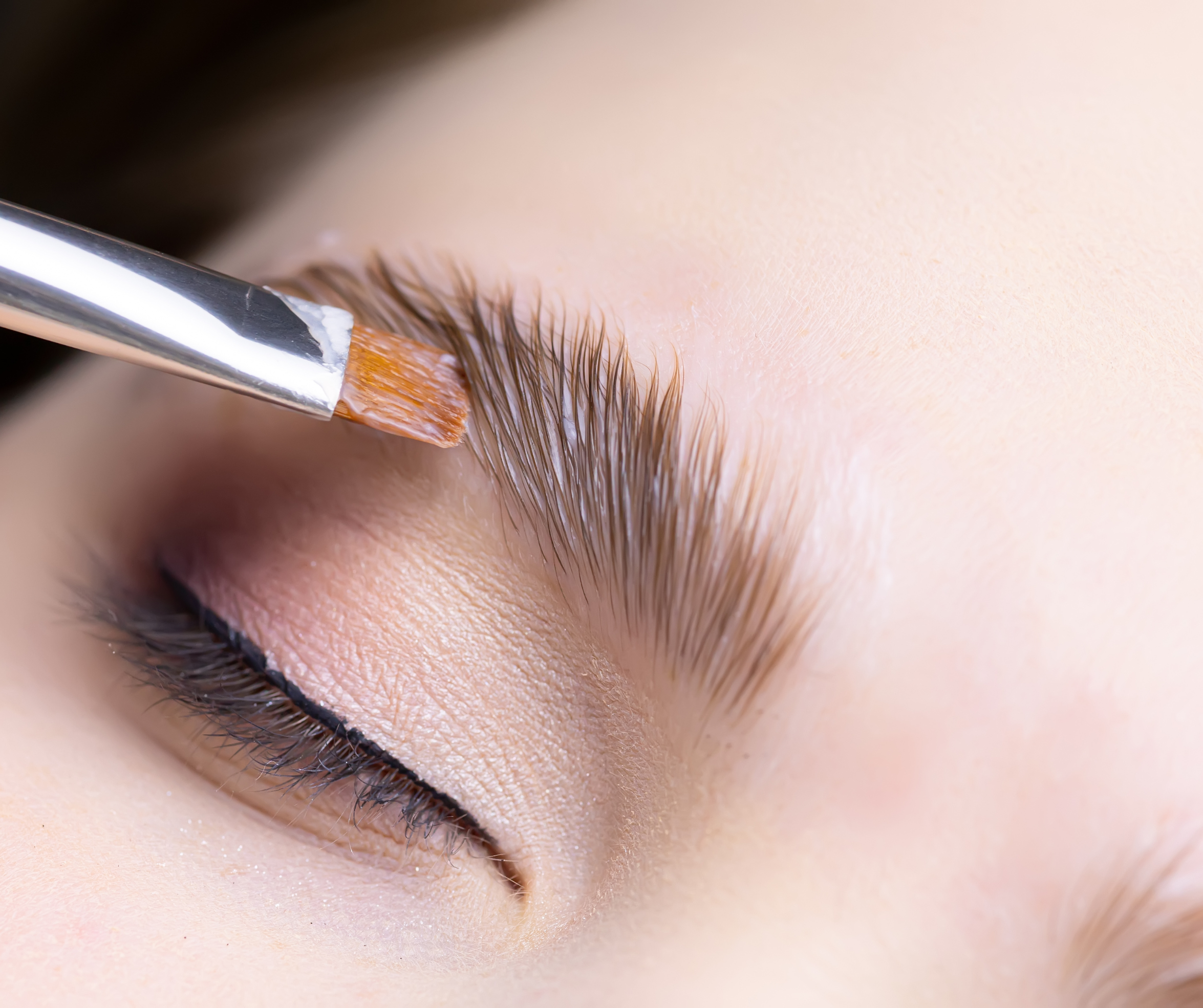 Book Your Appointment Today!
Is brow lamination safe?
Safe for all hair types and those with sensitive skin, an eyebrow lamination treatment involves setting brow hairs upwards. With no cutting or injections involved, an eyebrow lamination procedure is as simple as a straightening or perm treatment to the hair. Like a lash lift, brow lamination tames, softens, and straightens eyebrow hairs; adds more volume, helps to cover gaps, and creates a new shape to the brow.
A highly experienced and well-trained brow technician will start by performing a patch test on the eye area to make sure there will be minimal skin irritation. While a slight tingling sensation is normal, laminated brows are gentle on the skin beneath the brow area. During the brow lamination process, a gentle keratin formula, consisting of omega 3's, vitamin E, vitamin C, antioxidants, silica, and antimicrobials, is infused into the brow hairs. The hairs are then brushed and precisely set into place with a brow brush to achieve a well-groomed desired look.
Not only will brow lamination will help you to shave valuable time from your already busy morning routine, this treatment will leave you looking more polished, professional, and lovelier than ever with minimal effort and zero pain.
If your goal is to finally have tamer, neater-looking, flawlessly neat brows that are fuller, thicker, and fluffier than ever, then brow lamination is for you.