Henna Brows are taking the world of beauty by a storm. One of the latest brow treatments to come along in recent years, the results of henna brows are amazing! With so many brow services available, from nano-blading to brow lamination, what makes henna brows different is that it works by staining the skin. By tinting not only the brow hairs, but the skin beneath them, henna brows create the illusion of thicker, more voluminous brows while also darkening the hairs, making it ideal for anyone with lightly colored arches or sparse hairs.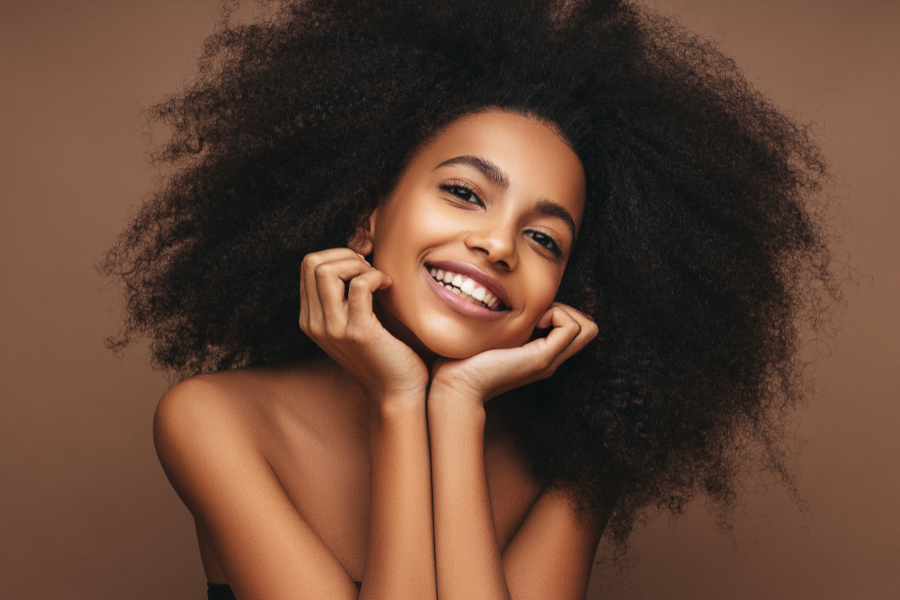 Book Your Appointment Today!
Other reasons this brow treatment is becoming increasingly popular is that it's non-invasive, completely natural, and less expensive than other services like brow lamination, threading, and waxing.
So, what exactly are henna brows and how are they different from henna tinting?
Henna Brow Tinting vs. Henna Brows
Best known for dying skin for temporary tattoos, henna is a dye made from a plant used for centuries to add colour to everything from fabric to hair.
The henna plant produces a molecule known as lawson which can be used to tint clothing, skin, and hair. Often associated with ceremonial Mehndi designs used on the hands and feet for special occasions in India and Middle Eastern cultures, henna has been reimagined to create beautifully fuller-looking eyebrows.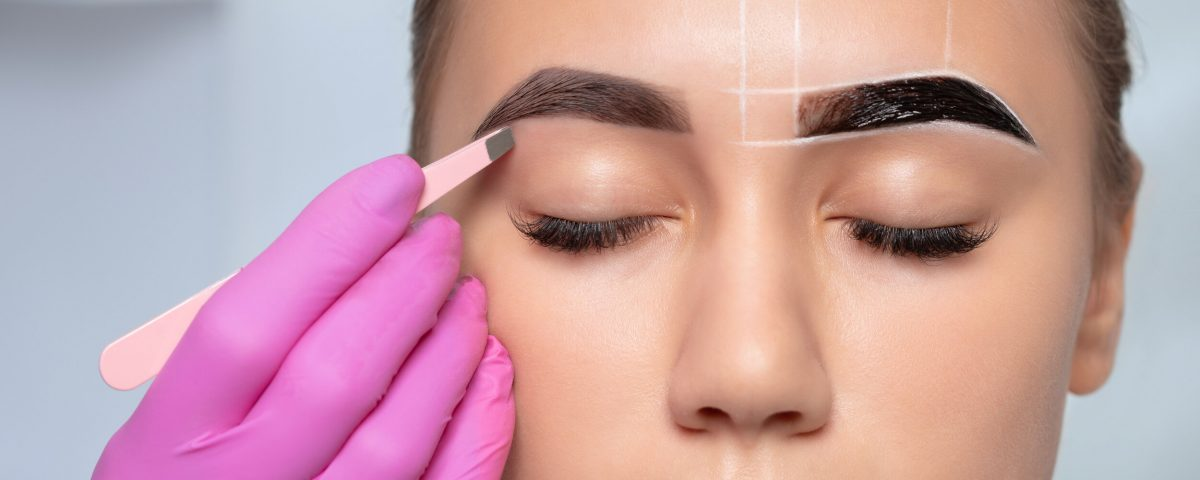 Henna eyebrows, a semi-permanent dye that stains the skin beneath the brow hairs, are one of the most popular ways to enhance the eyebrows, as the treatment is a lot less harsh than other shaping treatments like brow lamination, threading, and waxing.
The henna brow treatment is a great alternative to regular eyebrow tinting as it lasts for longer. Henna brows are also a great option if you have over-plucked your eyebrows or if they have some sparse areas, as the henna can help to define and fill in any gaps by shading in the skin beneath the brow hairs, creating the illusion of thicker arches.
Regular brow tints are great if you already have naturally full, well-shaped brows and simply wish to darken your brow hairs. For a more in-depth look into the difference between Henna Brows and Henna Tinting, see our blog past, What's the Difference Between Henna Brows and Henna Tinting?
What are henna brows?
Though henna is a very old method of transferring colour onto the skin and hair, used for thousands of years, the henna used for eyebrows is a different formulation than that used for dyeing hair. The henna used for henna brows is carefully curated so that it leaves a natural stain on the hairs and the skin beneath them to help brow artists create beautifully shaped and defined brows.
The henna brow tint comes in a range of shades which can be mixed to create natural results that complement and enhance the client's hair colour and skin tone. Henna has gotten a bad rap over the years, as people associate henna with the colour red, but new formulations have been developed so that no unwanted red remains (unless red is the colour of choice.)
How long do henna brows last?
The results from henna brow treatments usually last up to 2 weeks on the skin and up to 8 weeks on the brow hairs with variations depending on factors including one's skin type, the frequency with which brows are exposed to moisture, how oily the skin is, cell regeneration, and how often the brows are exposed to natural or artificial sunlight.
Benefits of Henna Brows
There are many benefits that henna brows have over other treatments with one of the greatest being that they fade gradually so they won't suddenly disappear. As they fade, brow pencils, powder, and gel makeup can be used to help fill in the gaps until they are ready to be re-tinted.
Additional benefits of henna brows:
Natural looking: Subtly tinted for a more natural look than hash treatments like tattooing
Defines and shapes brows: Henna on the skin beneath the brow creates a fuller, more voluminous look
Improved brow hair health: Nourishes the skin and hair follicles
Long Lasting: Last for up to two weeks on the skin and up to eight weeks on the hairs, much longer than regular brow tints
Less of a commitment: Before making a commitment to something more permanent, henna brows are great for experimenting with different shapes and shades.
Refresh for microbladed brows: If you already have microbladed brows but you're not quite ready for your annual touch, henna can refresh your brows until your next treatment.
Affordable: Much less expensive that other services, henna brow are an affordable option, making it accessible to more people.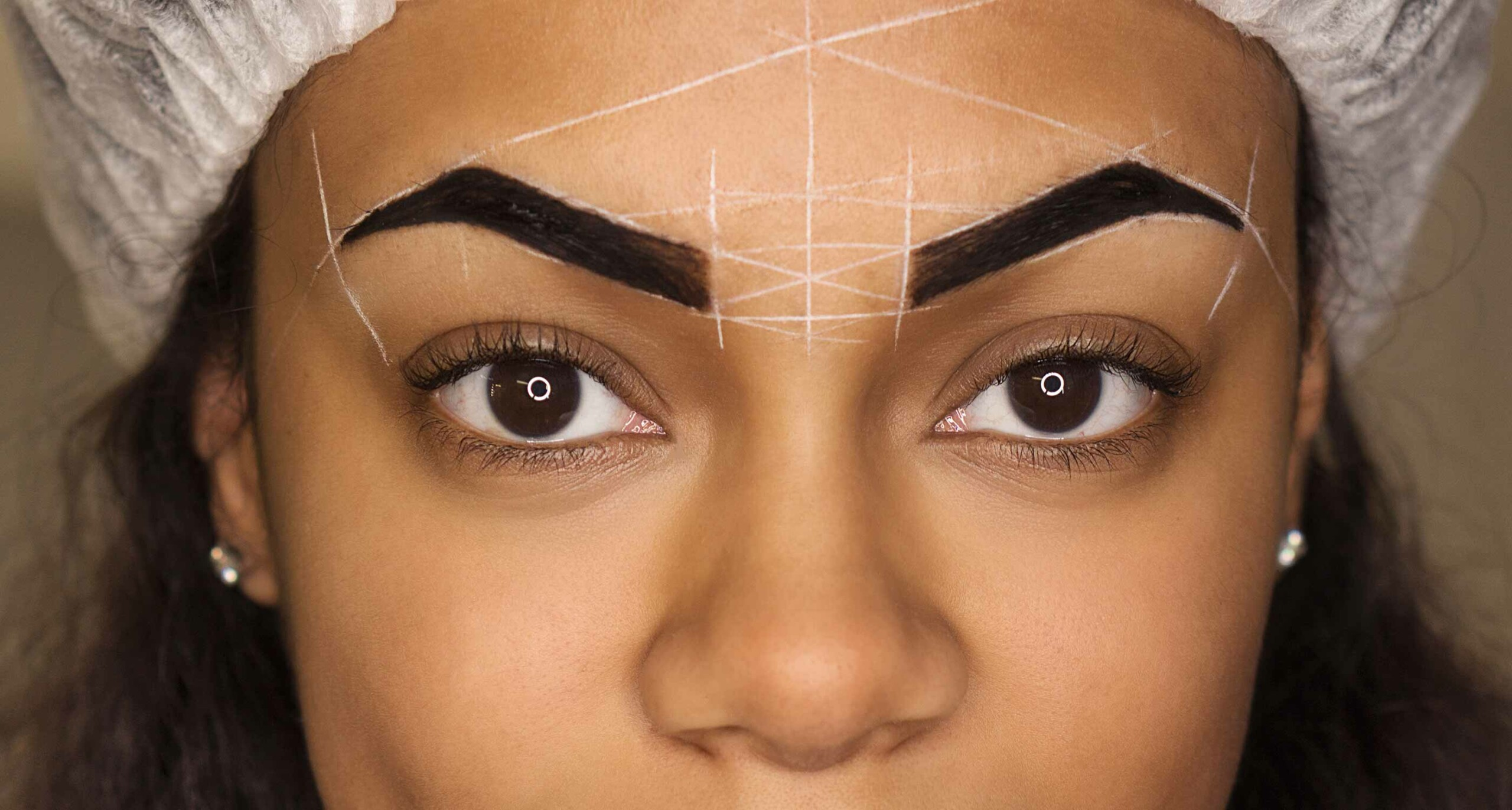 Book Your Appointment Today!
Henna brow process
If you've ever had a henna eyebrow tinting treatment or used hair dye for a DIY solution, you'll have a good idea of what the henna brow process involves.
A patch test is performed on the skin before the dye is applied to the eye area. This is particularly important for anyone with skin conditions or anyone who has had allergic reactions in the past.
The brow area is thoroughly cleansed to remove any dirt and oils.
Once the eyebrows have been thoroughly cleansed, the brow expert will map out your brows. Extra care is taken during this step to ensure that the brow shape best enhances your features and compliments your face shape. Generally, the most existing brows hairs as possible are utilized to create a natural look. For this reason, it is recommended that you do not pluck, tweeze, or cut any hairs before your treatment. Even stray sprouts are beneficial. If there are any hairs that don't work, the brow expert can take care of that, so resist the temptation to neaten up your brows for the days leading up to the treatment and leave the rest up to the pro!
Once your brows have been mapped, the henna is delicately applied beginning at the tail and slowly working inward. This helps create an ombre effect that starts soft and gradually gets darker towards the tail end.
After the henna has been applied, it will be left to sit on the brows for approximately 15 to 20 minutes.
The front section of the brow will be removed first because this is the area that will look the softest. After a few more minutes, the rest of the henna will be removed.
At this point, any unwanted hairs will be removed by waxing and plucking to create a neat and defined arching effect.
A post wax oil will be applied to the skin around the brow if waxing was performed.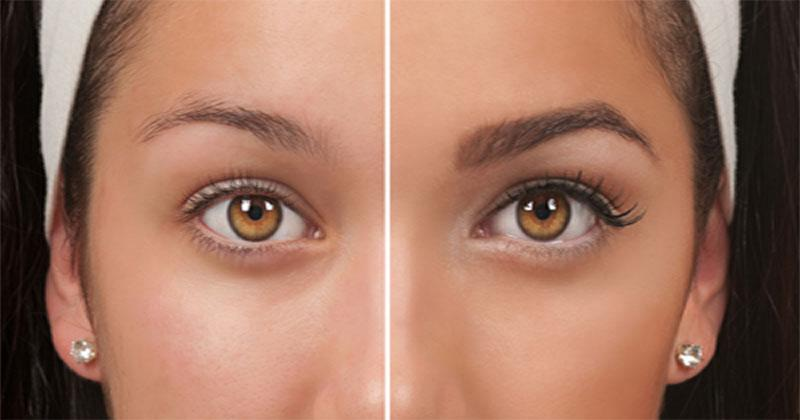 Do I need a patch test?
Absolutely! We won't be able to perform the treatment without doing a patch test at least 48hrs before your appointment. Your health and safety is paramount and we would never want to risk you having an allergic reaction to any of the products we use.
Are henna brows right for me?
Henna is a great treatment for most people, however if you have extremely thin, sparse brows with little to no brow hair you may find Permanent Makeup to be a more suitable treatment!
Do NOT have a henna brow treatment if:
You had a reaction to the patch test
You have any cuts, burns, or other skin conditions in the brow area at the time of your appointment
You have ever had a reaction to any form of henna in the past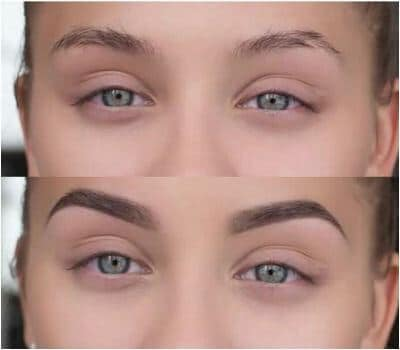 Dos and Don'ts Before and After Henna Brow Treatment
DO!
Make sure you paint the henna on perfectly and protect any surrounding skin with a Vaseline based barrier
Choose the correct colour
Perform a patch test as a colour containing PPD may have to be mixed into your lighter colour for tone
Remove henna from the bulb area sooner to avoid a blocky hard look
Use brow fix after the treatment daily to seal in colour and make the result last longer
Use your henna as a template to practice your makeup application over the top. The more you practice the quicker you will familiarise yourself with the shape and designing your brow makeup will be easier.
DO NOT!
Fake tan a week before or directly after
Have it done the day before an important event
Use harsh cleansing products or products with retinol in it around the brow area. These products exfoliate the skin and will remove the henna faster
Where Can I Get Henna Brows?
Henna is a great way to achieve darker and more defined brows while also looking natural and less harsh. A longer lasting alternative to regular brow tints as it stains the skin as well as the hairs, Henna Brows are ideal for filling in gaps, and experimenting with new brow shapes and shades before committing to a more permanent solution.
At Specialist Skin Solutions, we offer personalised guidance by brow artists who share your passion for beauty.
If you're ready to walk in with thin, sparse brow hairs and walk out with beautiful eyebrows that look just like those on social media and fashion magazines, call Specialist Skin Solutions @(02) 4934 1700 to book your appointment today!