Many celebrities have undergone extreme weight loss transformations, sometimes to prepare for a role and other times to roll back the size of their jeans.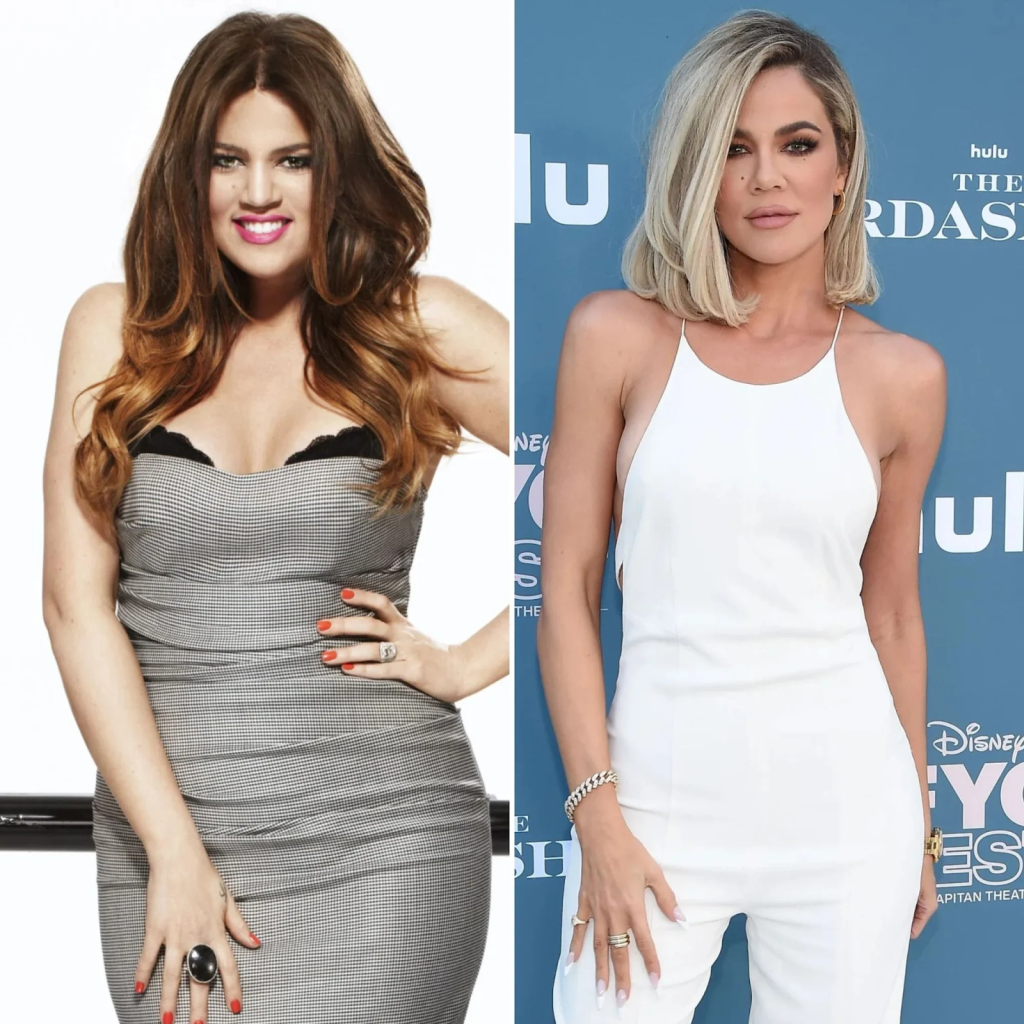 Book Your Appointment Today!
Some of the most well-known celebrities in the world have become unrecognisable after taking extreme measures to slim down. Under extremely close scrutiny, some are praised for the healthy lifestyle changes that lead to dramatic reductions. Oftentimes, however, social media tends to focus on the dramatic, extreme, and borderline dangerous methods.  
Though some A-lister weight-loss secrets might always stay just that—a secret, here's a look at some of the most dramatic weight loss transformations of all recent times.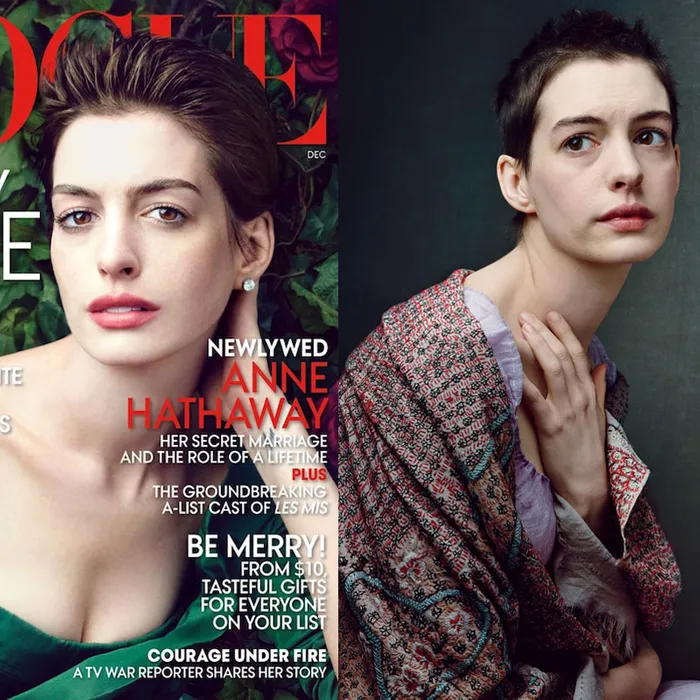 Extreme Celebrity Weight Loss Transformations
First, let's take a look at a few of the more outrageous and extreme weight-loss methods that stars have used for specific movie roles.
Anne Hathaway Lost 11.34 kg (25 Pounds) for " "Les Mis" Eating Oatmeal Paste
Reportedly dropping 25 pounds for her role as Fantine in "Les Miserables," actress Anne Hathaway credits her drop in weight to a diet of eating only two pieces of oatmeal paste a day. "I had to be obsessive about it—the idaea was to look near death," the actress disclosed to Vogue magazine.
While she was celebrated for her performance in the film, the star, who underwent a dangerously unhealthy diet for this weight loss, received criticism in the media.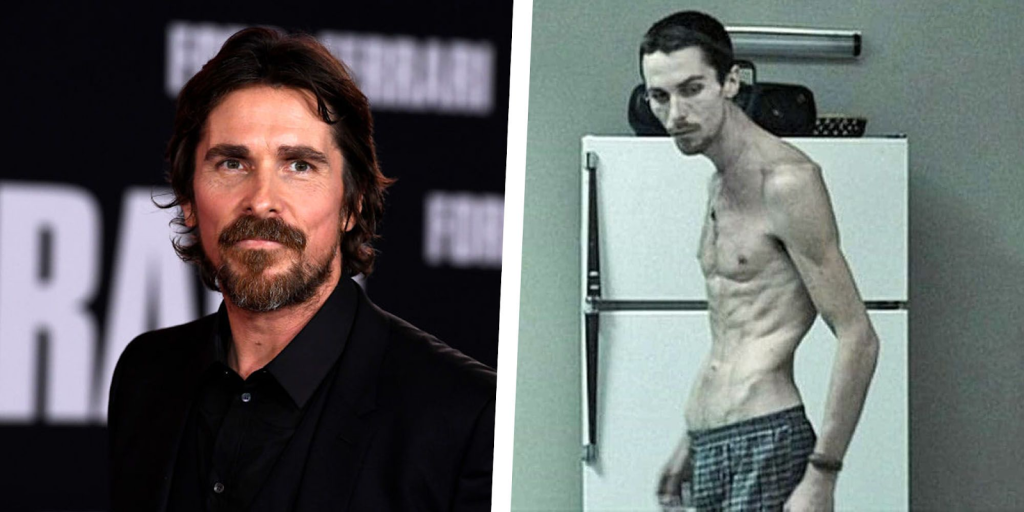 Actor, Christian Bale Lost 22.95 kg (55-pounds) for His Role in The Machinist
Christian Bale underwent a 22.95 kg (55-pound) weight loss for his role in The Machinist, a film about a man inflicted with insomnia.
To lose the weight, Bale reportedly drank black coffee and ate one can of tuna with one apple every day. While this extreme weight loss worked, this kind of weight loss can wreak havoc on a person's health. In fact, "I can't keep doing it. I really can't," the actor disclosed in a 2019 interview. "My mortality is staring me in the face."
Matthew McConaughey Lost 22.68 kg (50 pounds) Eating Tapioca Pudding
Matthew McConaughey lost 22.68 kg (50 pounds) for a role in the 2013 film, Dallas Buyers Club. Where he played a man with HIV/AIDS in the 80s. To drop 22.68 kg (50 pounds) in just five months, McConaughey stuck to a strict diet of fish, veggies, egg whites, and tapioca pudding.
Healthy Celebrity Weight Loss Transformations
Proving that not all weight loss transformations have to come with unhealthy habits and extreme measures, there have been celebrities who have chosen to take the healthier path toward a fitter look.
Adele Dropped 44.45 kg (98 Pounds) With Healthy Lifestyle Changes
In 2020, Adele shocked the world on social media when she revealed her transformation. Reportedly dropping a whopping 98 pounds by working out regularly, eating a well-balanced diet, and getting plenty of sleep, the grammy-winning singer isn't only A-lister who has left jaws dropping in recent years with incredible weight loss metamorphosis.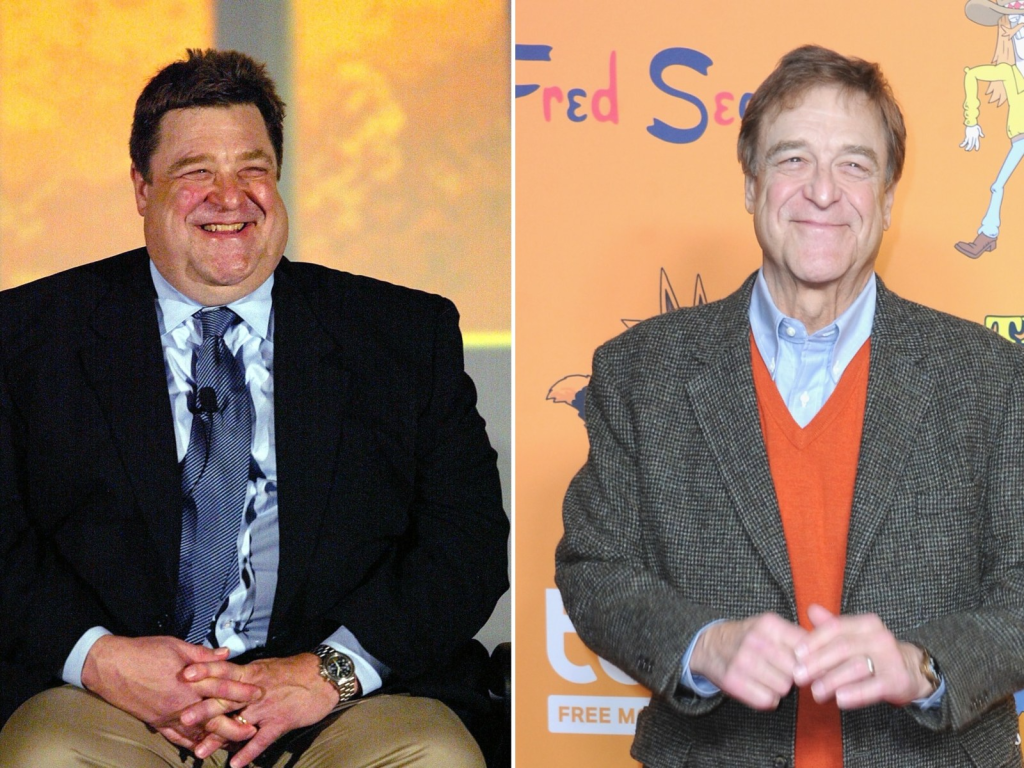 John Goodman Lost 68.04 kg (150 Pounds) With Mediterranean Diet
Roseanne star, John Goodman, lost 150 pounds by sticking to the Mediterranean diet and cutting down red meat. Goodman also credits the weight loss to focusing on portion control.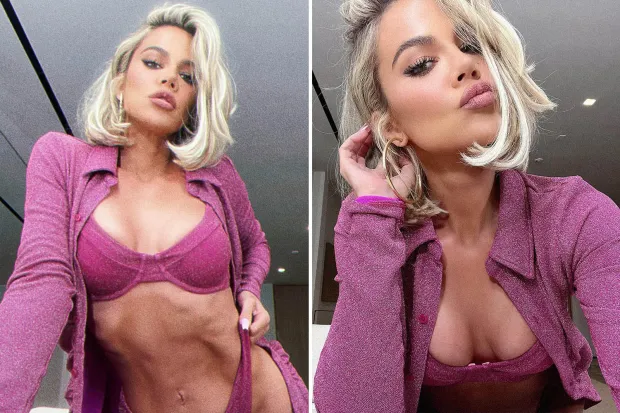 Khloe Kardashian, who was over 90 kg (200 pounds when she gave birth to her daughter, dropped over 60-pounds after giving birth to daughter, True Thompson in 2018. revealed that she recently reached her goal weight of 68.04 kg (150 pounds.)
Despite the media blasting over-the-top posts about how the star lost weight, Khloe is adamant that she "credits her weight loss to a healthy diet and spending many hours at the gym".
The 35 year-old claims that she "started going to the gym for (her) mental health."
"The only place to really be alone was to be on an elliptical with headphones and kinda just vibing out."
"When you start putting yourself first, you start feeling so much better."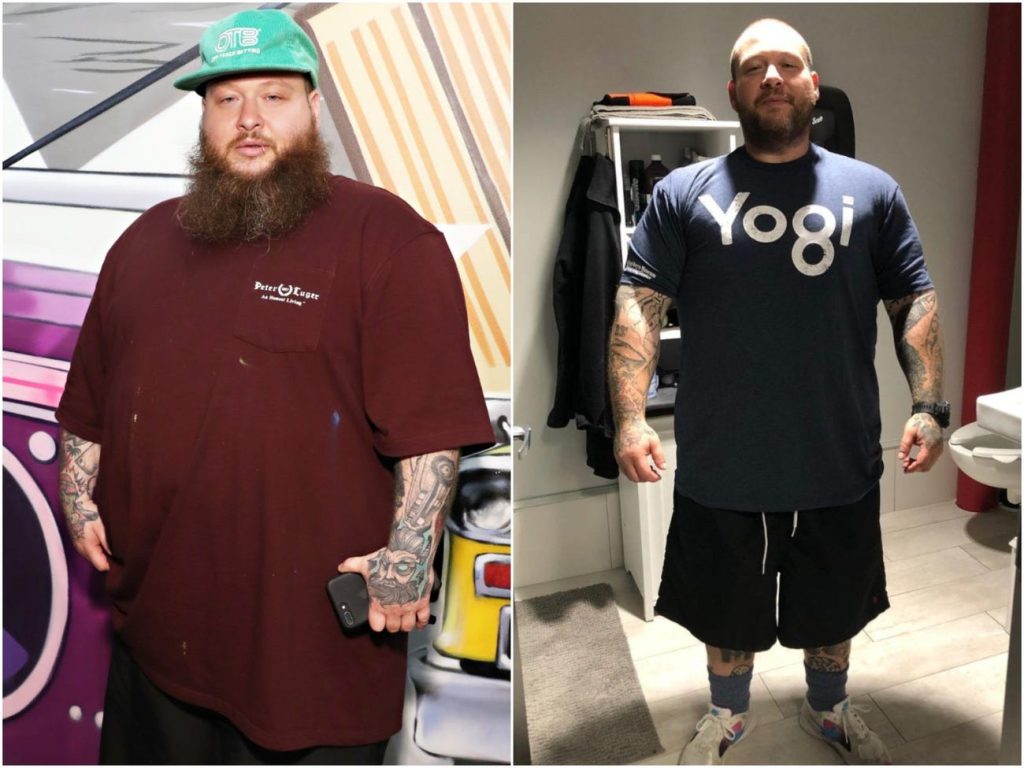 Rapper Action Bronson Lost 57.61 kg (127 Pounds) Making Healthy Changes
Most famous for his music career, Rapper, Action Bronson, who also hosted a show "F—, That's Delicious," decided to change his ways after the birth of his son in 2019.
In a 2020 Men's Health interview, the rapper disclosed "if I made something that was a big, round dish, I would eat the big, round dish. I wouldn't just have one piece." He added, "There was a lot of s— like pre-diabetes, eczema, asthma, all kinds of (dumb stuff) that I had given myself."
It was the birth of his son in 2019 that prompted the rapper to begin taking health more seriously, starting a workout routine, which included boxing, medicine balls, and burpees.
"This journey started way long ago," Bronson told Men's Health. "I was born heavy. I was a heavy child. This transformation was long overdue."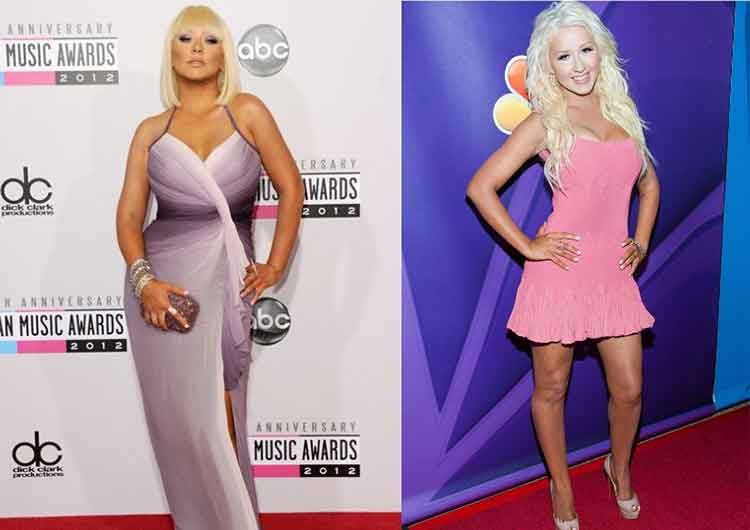 Christina Aguilera Lost 22.68 kg (50 pounds) Focusing of "Self"
Singer, Christina Aguilera, revealed that when she was not able to prioritise herself, she gained weight.
Giving herself time for herself and her son, Agueilera told Us Weekly in 2013. that "being able to breathe and have time away from the camera and getting to the nitty-gritty of all things real and personal [allowed her to come] back refreshed." The singer admitted that when she started to take time to focus on herself and "started eating salads, shrimp, celery, and blueberries," she lost 50 pounds.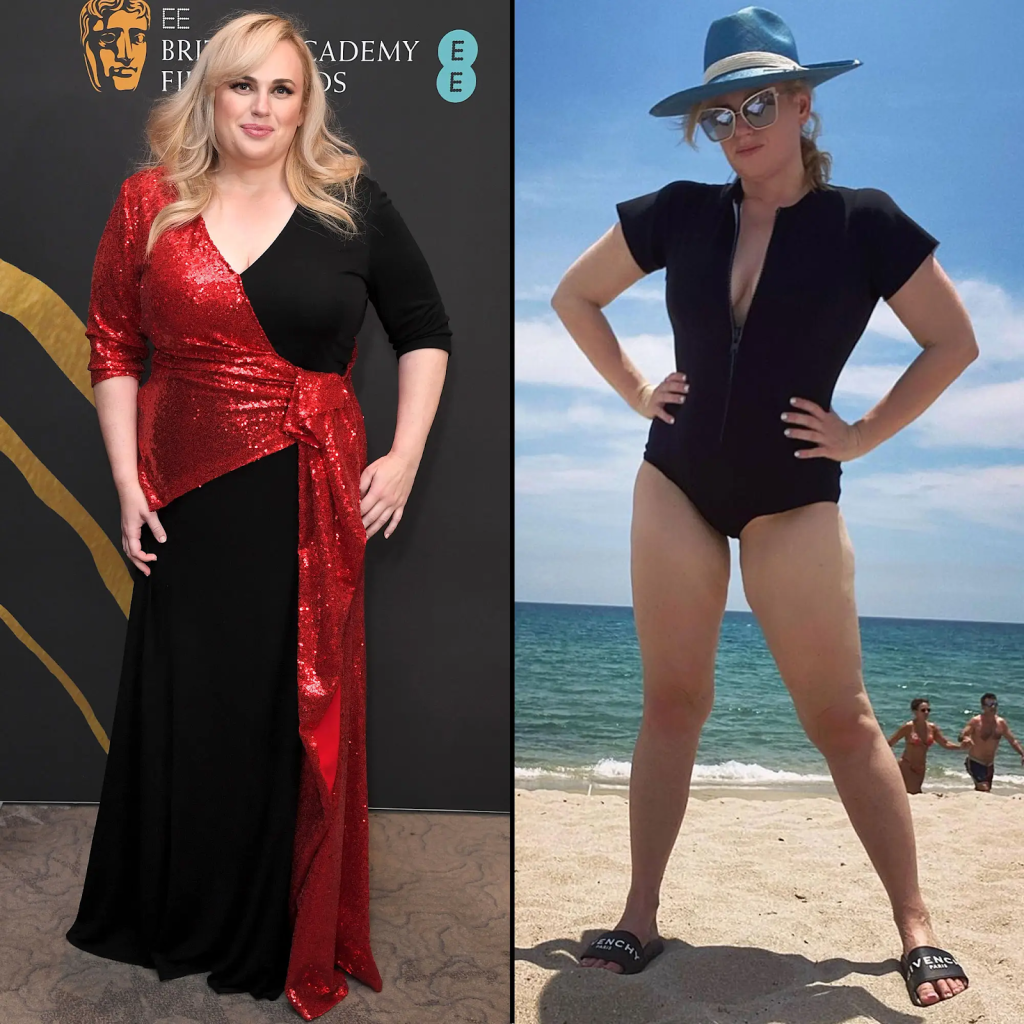 Rebel Wilson Lost 18.14 kg (40 pounds) Focusing on a "Year of Health"
By taking the "holistic approach" by focusing on her mental health and tackling emotional eating, in 2020, Rebel Wilson went on "The Drew Barrymore Show" and announced she had lost 40 pounds.
"I never really focused on my health, which was probably obvious. I was (eating a ton of sugar.) That was kind of my vice."
"For the last few years, I've been theme-ing my years. So I had the 'Year of Fun,' the 'Year of Love,' and this year, the 'Year of Health' because I turned 40."
Book Your Appointment Today!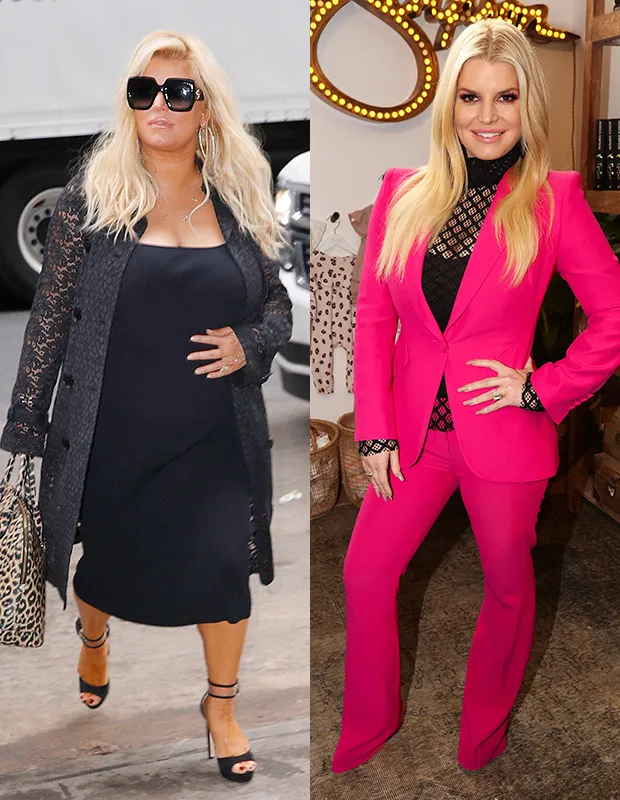 Jessica Simpson Lost 45.36 kg (100 Pounds) After Giving Birth to Her Third Baby
After the birth of her third child,  Jessica Simpson reported that she weighed 240 pounds. But in 2019, the celeb announced that she had lost 100 pounds by focusing on exercise, walking 14,000 steps every day, working out in the gym, and getting seven hours of sleep every night.
In a 2019 Instagram post, the actress revealed, "even when it felt impossible, I chose to work harder."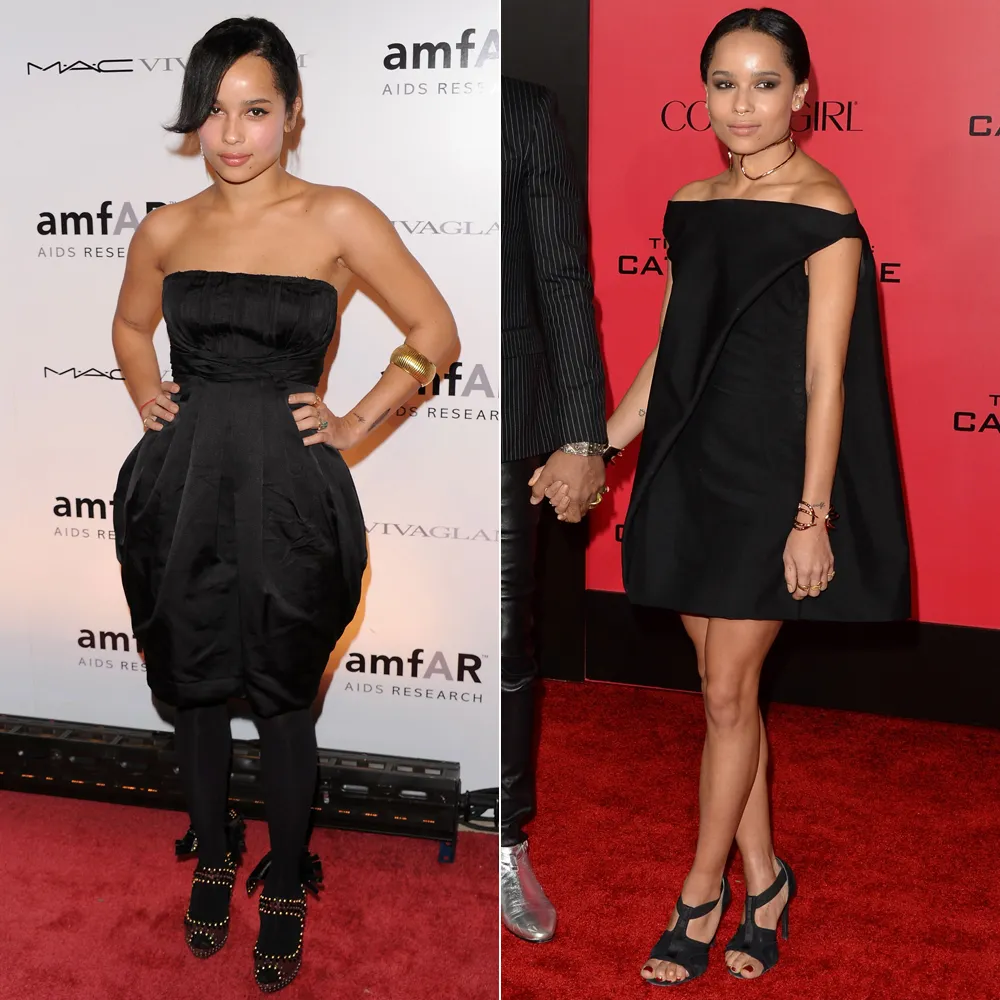 Zoe Kravitz Lost Weight With an "Extreme Cleanse"
In 2015, Zoe Kravitz played the role of someone who is bulimic and anorexic for a film called "The Road Within." The star had to lose weight for the role, which she did with an extreme cleanse.
"I did a cleanse," she said in an interview with Us Weekly. "I tried to do it the healthiest way possible, even though it's not healthy to do. I ended up drinking clay, because it cleans out your body and fills you up. I was eating like a Mason jar of pureed vegetables a day and running."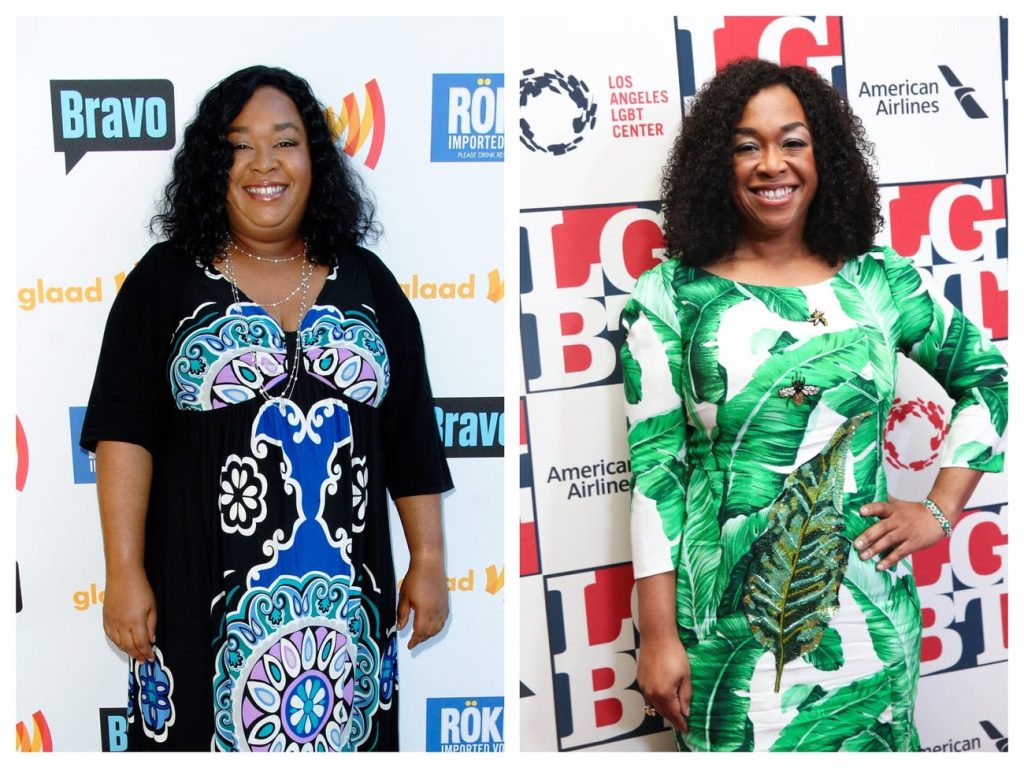 Shonda Rhimes Lost 68.04 kg (150 Pounds) and Admits She "Hated Every Single Second"
An A-lister behind successful series like "Grey's Anatomy " and "Scandal" reported that she "only ate when she was hungry, drank a lot of water, and hired a personal trainer for her weight -loss transformation. Dropping 150 pounds, Rhimes admitted in a 2017 newsletter that "losing weight is not a topic I like discussing because there is nothing fun or interesting or great about it." Later disclosing that she "hated every single second of it," Rhimes added that she "hates every single second of maintaining too."
Sam Smith Lost 22 kg (50 pounds) With Nutritional Therapy
Admitting that they struggled with emotional eating, Grammy Award-winning Sam Smith explained that they used to eat whenever they felt lonely or felt like an outcast at school. A few years ago, Smith decided to change that habit when they met a nutritional therapist.
"I met a woman who has completely changed my life," they wrote on Instagram. "Amelia Freer has helped me lose over a stone in two weeks and has completely transformed my relationship with food."
Since then, they have lost 50 pounds.
Chris Pratt Lost 27.22 kg (60 Pounds) for Role in Marvel Movie Working Out 4 Hours a Day
After reaching success as Andy on "Parks and Recreation," Chris Pratt was ready to become a movie star in 2013 when he joined the Marvel universe in "Guardians of The Galaxy." For the role, he lost 27.22 kg (60 pounds) by increasing his calorie intake to 4,000 and drinking a lot of water.
"I was peeing all day long, every day," the actor told Men's Health.
When it came to working out, Pratt focused on running, swimming, and kickboxing for three to four hours each day.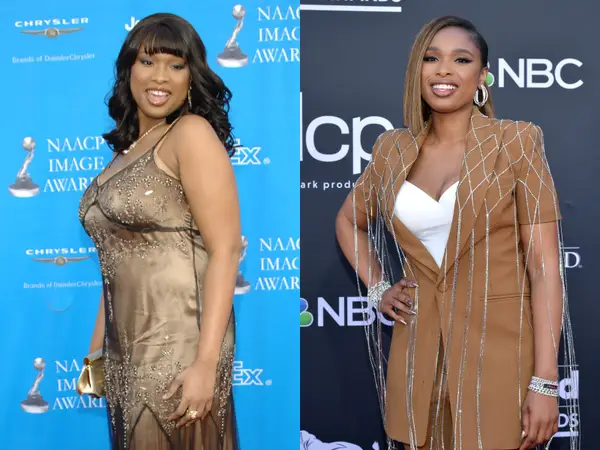 Jennifer Hudson Lost 36.29 kg (80 pounds) with Weight Watchers and Cooking Meals at Home
Rising to fame on "American Idol," Jennifer Hudson really jumped into the spotlight when she starred in "Dreamgirls" and won an Academy Award for her role in 2007. Then four years later, Hudson made headlines with her huge weight transformation.
Dropping over 36kg (80 pounds) and going from a size 16 to a size 6, Hudson, who partnered with Weight Watchers, began to "cook all (her) meals at home."
"When I work out, I like what I do. It's all about self-motivation because, at the end of the day, you can have all the trainers and all the money in the world, but if you don't have that mindset, it's not possible."
Since then, Hudson has managed to keep the weight off by eating fruit, yogurt, grilled chicken, and a small piece of chocolate every now and then.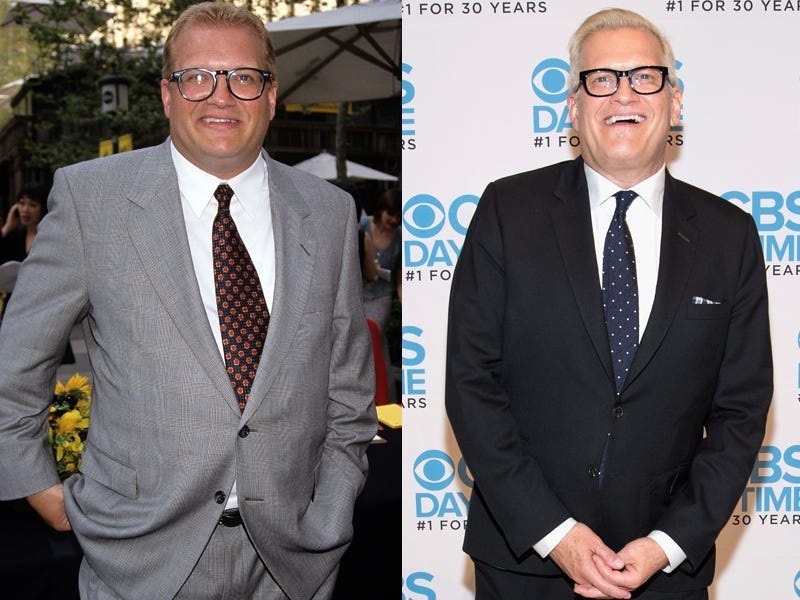 Drew Carey Changed His Relationship With Food
Known for hosting "The Price is Right," Drew Carey said he developed some bad habits while doing the show.
"I was eating a lot of garbage (and) I was drinking a lot, so I had a lot of mood swings," Carey told Success in 2015.
Carey said he decided to focus on his health and to "change my whole belief system" when it came to eating.
"It wasn't like, 'Eat this for 90 days and lose 20 pounds.' It was: 'Eat like this for the rest of your life.'"
He also cut out alcohol from his diet.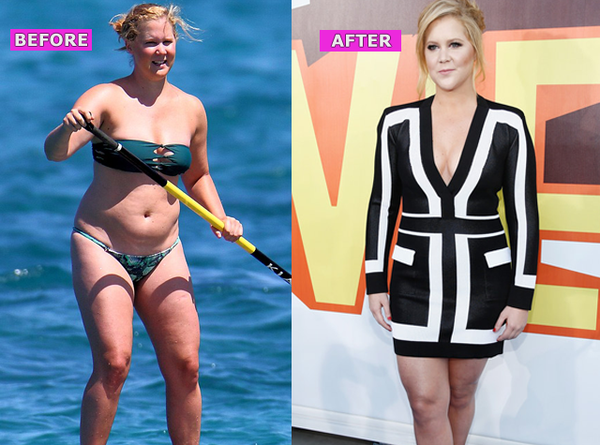 Amy Schumer Honest About Ozempic 
"During an appearance on "Watch What Happens Live with Andy Cohen" in June 2023, Amy Schumer said she was on Ozempic "like a year ago."
She said she lost weight but it made her so sick that she couldn't play ball with her then 3-year-old son, Gene.
"You're like, 'OK, this isn't livable for me,' but I immediately invested because I'm like, 'Everyone and their mom is gonna try it,'" she said.
Schumer criticises celebrities who aren't honest about taking weight-loss drugs.
"Everybody (is) lying, everyone's like, 'Oh, smaller portions,' like shut the "F"  up, you're on Ozempic or one of those things," she said. "Just be real with the people."
See our upcoming blog post that dives into some celebrities who've taken it, went off of it, and most of all, denied using it.
Book Your Appointment Today!
Takeaway
Celebrities are just like everybody else. They have the same sense of insecurities, body image issues, and difficulties with losing weight. The big difference between these stars and the rest of us is that their struggles happen in front of the eyes of the world with embarrassing before and after pictures popping up all over social media and those sensationalistic rags in supermarket lines.
When it comes right down to it, we're all human and they deserve to be given the same credit and understanding as the rest of us. When it comes to losing weight, the most important thing to remember is that beauty is only skin deep and true beauty lies within us all.