Active Acne
"The worst thing about having acne? The way it makes you feel."
Acne can make you feel hopeless at times. The red, crusty breakouts, the feeling that your face is just made entirely of lumps, that feeling that you look like you are "trying too hard" since you always have to wear heavy makeup to cover it up…it's not a great way to live.
Many people who have acne feel self conscious and frustrated. If you have acne, some of the following might sound familiar:
Hiding behind makeup, which makes it look better but can't be doing any good for your congestion
Battling shine and constantly having to check the mirror and wipe away the oil
Shying away from bright lights on the train, in the drugstore, at the beach with your friends…
Wasting hours reading online help articles and forums looking for solutions
Spending a big chunk of your paycheck on popular acne systems that often do not produce meaningful results
Wishing and praying to wake up to clear skin every day
Feeling different than all your friends and coworkers
Having bad acne is enough to make you feel like giving up. You may even feel guilty for being so worried about your looks because looks are supposed to be superficial. But the truth is, everyone wants to put their best foot forward. Clear skin is a big part of that.
We can help you get the clear skin you are looking for with medical treatments for acne. If you are struggling, we can help!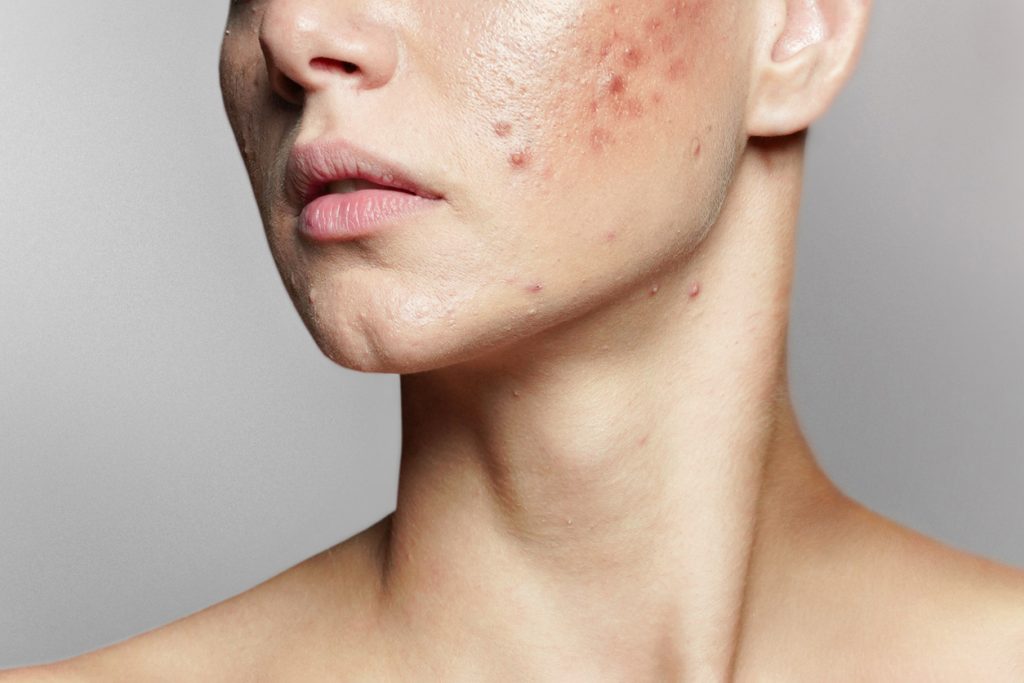 Why do some people get acne?
These extended outbreaks often happen when we're going through hormonal changes, but unfortunately these changes can last for many years. It usually starts due to an overproduction of oil from your sebaceous glands in combination with dead skin buildup, and it's surprisingly common.
There are many reasons you can get breakouts. Your genetics plays a big role. Genetics control how much oil your skin produces. Sebum clogs pores and allows acne bacteria to proliferate.
Acne is not your fault
Acne can feel embarrassing because some people mistakenly believe it is a hygiene issue. This is rarely the case. While you can reduce acne by cleansing your face daily, washing your pillows and towels often, and keeping your cell phone screen from pressing against your cheek when you talk on the phone, that is often not enough.
Unfortunately, most over-the-counter treatments are ineffective when it comes to controlling breakouts. You've probably tried every trick in the book with minimal success. That's where Specialist Skin Solutions can help.
Specialist Skin Solutions offers acne treatments that actually work
Acne can be overwhelming, and it is not easy to fix on your own. That's why it is time to consider a medical solution. At Specialist Skin Solutions, our caring staff will create a customised skincare program to help combat active acne in the fastest time possible. Our highly-trained dermal therapists will provide you with the best treatments so you can get back to feeling and looking your best.
We take a two-step approach to acne treatment at our clinic. This includes a combination of deep cleansing, peels, and lasers such as Laser Genesis and LED light treatments. To further protect against acne, we can prescribe you products for home use. This creates a treatment plan that attacks acne from all angles.
Check out our programs and products to see which is right for you
8 Session Acne-busting Program:
Our customised eight session package is the best way to tackle your acne head on. We combine treatments to address your exact skin concerns to find the best results for you. We know one size does not fit all. You may have red pimples, cysts, blackheads, whiteheads, oily skin, open pores, sensitive skin, combination skin, or some combination of any of these.
We make sure to give each patient a personalised approach at every session. Each treatment is built on the results of previous treatments to give you maximum benefit. The 8 session program combines deep cleansing, peels and/or laser, along with advanced acne products based on your skin type.
Our Mix and Match Program:
Want to pay as you go?
You may need a top-up session for maintenance.
You may have occasional breakouts and need a touch up once in a while.
Our mix and match Program is perfect for those who desire that flexibility. Although we recommend our 8 session program for first-time users and those with serious acne, this may be the right choice for certain patients.
This program includes a facial consultation with our skincare experts. You can choose from any of our dermal therapies, from skin cleansing, peels, and LED light. We also have great skincare products you can take home to maintain clear skin year round.