Unsightly rolls and flab just beneath your jawline? You don't have to take it on the chin any longer!
They say two is better than one, but when it comes to chins, no one wants to double down. If you're ready to ditch your double chin, truSculpt®iD, a non-surgical procedure that eliminates fat and contours the jawline, can give you that chiseled chin you've been longing for once and for all.
There are many factors that contribute to a double chin, not the least of which is age. As you grow older, the collagen production in your skin naturally begins to decline. Since collagen is responsible for the tone and elasticity of your skin, the effects are varied. From ravaging wrinkles to sagging cheeks, your skin begins to loosen, resulting in a double chin.
Until now, tackling a double chin has been an exercise in futility since the factors that lead to a double chin — genetics, gravity, and the loss of supporting fibers — are tough enemies to combat.
Tricks for Reducing Chin and Jawline Fat – Do They Work?
While it's true that if you don't exercise the muscles below the neck, they'll become weak and flabby, can exercise really cure the downward drift? There have been a wide variety of silly exercises touted as cures for the double chin over the years. From facial yoga to whistling to the sky, chewing gum, and the Lion's Yawn (above,) while these tricks might work when done over and over and over again, the reality is no one has the time, patience, or stamina to do enough to really make a difference.
Then there's weight loss. Sure, purging extra pounds can reduce the fat in your face, but the truth is, even if you do lose weight, it still might not eliminate your double chin.
Then, there's surgery. Painful, expensive, and intrusive to everyday life, going under the knife isn't the answer for most people.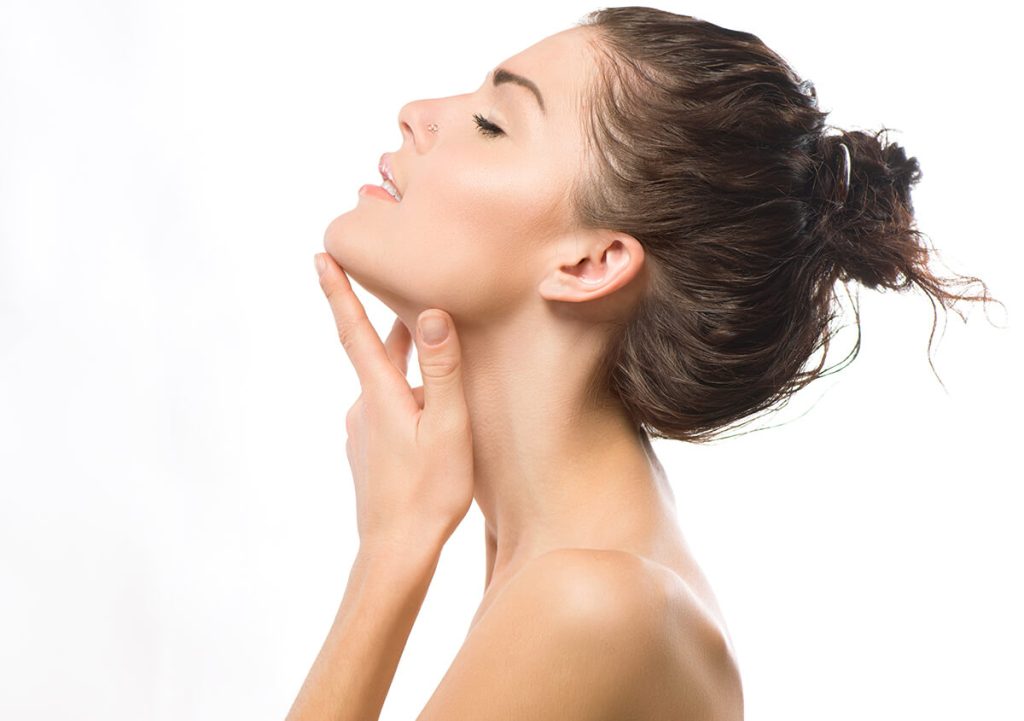 Chin up
But there's good news! With truSculpt® iD, the latest non-surgical, non-invasive, clinically proven, and TGA-approved treatment for eliminating the dreaded double chin, a quick 15-minute procedure done out of the hospital is a simple solution to losing the double chin forever!
That's because with truSculpt iD, a painless procedure performed in an experienced and reputable provider's office, fat simply melts away, leaving you with a sexy neckline, a sculpted jaw, and a chiseled chin without surgery, silly stunts, or fat-loss fads.
What is truSculpt® iD?
truSculpt® iD uses Monopolar Radio Frequency technology to target fat cells selectively. Using a handpiece that emits the radio frequency energy, the device is placed over the targeted area, while pulses of energy cause fat cells to heat up and shrink, promoting skin contraction for a slimming and smoothing effect. Easily adjusted to conform to each patient's needs, the level of heat can be adapted, so each person feels comfortable and experiences very little to no pain.
truSculpt® iD is a non-invasive, clinically proven, highly effective, and completely safe treatment that permanently eliminates fat cells from even the hardest-to-reach areas. truSculpt® iDis the only TGA-approved device of its kind that offers a non-invasive treatment option for body sculpting and fat reduction. It has been clinically proven to permanently reduce fat by up to 24% in as little as one treatment.
By delivering radio frequency energy through the skin, fat cells absorb the energy in the form of heat, effectively destroying the unsightly fat without harming the skin at all. Once destroyed, the body naturally takes over and flushes out the old fat cells through the lymphatic system.
The procedure takes just a few minutes, and you can expect to see full results 6-12 weeks after your last treatment–that's the amount of time your body needs time to clear away the destroyed fat.
With truSculpt® iD, patients can get the definition they desire, even in areas that have been resistant to diet and exercise, like the chin and jaw. One of the main advantages of truSculpt® iD is that it is a simple and comfortable procedure, requiring no anesthetic, no downtime, and maybe most importantly, no knives or needles!
Common Areas of Treatment
Thanks to the size and number of handpieces, truSculpt® iD can address a variety of concerns and target hard-to-reach areas of the face and body, including the jaw, chin, neck, arms, inner thighs, and back regardless of loose skin or skin laxity.
Common concerns addressed by truSculpt® iD:
Double chin
Belly fat
Love handles (flanks)
Inner and outer thigh fat
Back fat
Wobbly upper arms
Butt fat
Book Your Appointment Today!
Ready to Stop Seeing Double?
If you're struggling with fat beneath the jaw or around the neckline, you're not alone, but thanks to truSculpt® iD, a sexier look can be yours in just a few minutes. The number of truSculpt® iD treatments required to eliminate a double chin varies from person to person. That's why we invite you to give us a call to set up a consultation. Once we have an idea of the problem and your goals, we'll come up with an appropriate treatment plan that works for you.
Because the procedure is non-invasive, there's no downtime or recovery period. You simply come in, sit back, and let us work our magic. Then you can get on with the rest of your day as if nothing has happened.
At Specialist Skin Solutions,  a cosmetic clinic specialising in non-surgical, anti-aging aesthetic procedures, including the latest laser techniques and dermal therapies, we proudly offer truSculpt® iD, the latest in state-of-the-art  fat melting,  chin chiseling techniques. 
We believe in transparency and education first and foremost, providing every client with information, explanations, and treatment options before performing any procedure. Offering a thorough consultation prior to treatment, we'll discuss the areas of concern and the range of treatment options suggested to produce optimal results. And because the number of truSculpt® iD treatments varies from person to person, we'll create an individualized treatment plan, discuss our pricing structure, and explain in detail what you can expect both during and after the procedure.
So, if you're sick of seeing double when you look in the mirror, book an appointment with us today! At Specialist Skin Solutions, we're dedicated to helping each one of our clients feel their best by bringing out their natural beauty and loving the skin they're in at any age. We look forward to speaking with you!
If you have specific questions, call us at 02-4934-1700.
*Disclaimer: truSculpt® iD results vary. There are risks with any procedure.