Henna has been a popular technique used for body art and hair dyeing for many years. Made from a natural plant-based dye derived from the Lawsonia Inermis plant, henna is now gaining notoriety as a semi-permanent eyebrow tinting treatment.
Henna Brows involve applying a paste made from henna and water to the eyebrows using a brush or applicator, shaping and filling in the brows to achieve the desired look, and then allowing it to dry for about 20 to 30 minutes.
The longer the henna is left on the brows, the darker the color will be. After the appropriate amount of processing time, the henna is removed, revealing beautifully tinted eyebrows. The resulting color can last anywhere from one to three weeks, depending on individual factors such as skin type, exposure to water, and daily cleansing routines.
Henna Brows are becoming increasingly popular because they are very natural-looking. Not only do they provide a tint to the brows, but they enhance their shape and fullness. Henna is a great option for people with sparse or light-colored eyebrows who want a semi-permanent solution to define and darken their brows.
Rapidly becoming a cult favorite, henna brows are one of the hottest brow treatmets on social media. An affordable, convenient, and natural alternative to traditional brow coloring, Henna brows are non-toxic, organic, and plant-based henna contains no harsh chemicals, making it ideal for younger customers and those with allergies or sensitive skin.
Book Your Appointment Today!
What is Henna?
Henna, a natural extract found in the henna plant, has been used for centuries, dating back to the ancient Egyptian era when it was used as an ornamental dye for hair and nails.
Henna brows work by casting a shadow that creates an illusion that the brow area is much more profound and fuller. This makes for an effective treatment for anyone with sparse or thin brows.
And because henna is a natural plant dye, it does not involve the use of bleach, ammonia, or any other potentially hazardous chemicals, making it one of the safest brow treatments for the delicate eye area.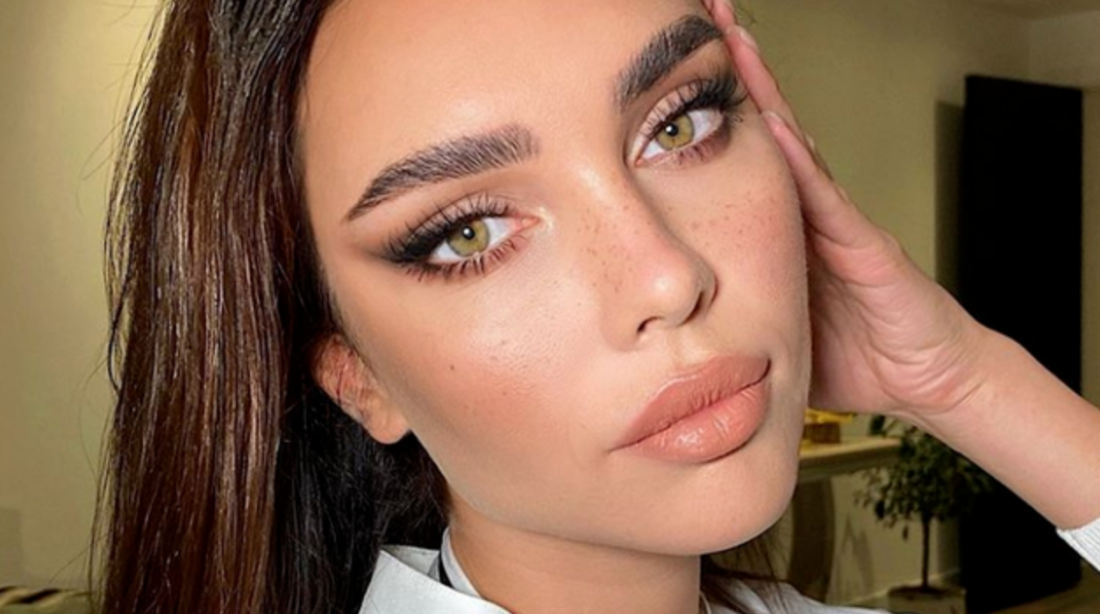 How Henna Brow Treatments Work, Step-by-Step
1. Patch Test
Initially, the brow expert will perform a patch test to make sure you don't have any skin conditions, sensitivities, or have an allergic reaction to the henna product.
2. Clean the Skin
After passing the patch test, the next step is cleaning any make-up, dead skin cells, and excessive oils from the skin around and beneath the brow. It is critical to clean the skin beneath the brows before application because the cleaner the skin, the better the results and the longer the effect will last.
3. Shape the Eyebrows
There are several techniques that can be used during this step including threading, plucking, and waxing. To achieve a precise, outlined edge, the brow expert will apply a white paste around the brow shape to prevent any leakage.
4. Choose a Shade
A brow expert will help you choose a shade depending on preference and skin color. Because some colors develop differently on different skin types, it's recommended that first-timers start off with a darker shade.
5. Prepare the Henna Solution
Once you have decided on a color, the brow expert mixes the henna powder with water to form a paste.
6. Apply the Henna Solution
Next, the brow expert will apply the henna paste using a special kind of brush to ensure that the dye is evenly distributed across the brows and the skin beneath the brow hairs. The henna is allowed to sit for about 20 minutes. When it's finished, the brows are wiped clean.
How To Maintain Henna Brows
To keep henna brows intact for the longest time possible, it's important to follow these aftercare tips for the first 24 hours.
Avoid using make-up removers.
Refrain from rubbing the brow area.
Avoid warm facial cleansing and steam facials.
Do not expose your brows to the sun's rays.
Avoid swimming.
Benefits of Henna Brows
Although henna brows aren't for everyone, this treatment is an excellent solution for people who struggle with designing and filling in their brows as it provides a good base form.
Henna brows are especially perfect for clients who have sparse, very thin, or non-existent brow hair.
More Benefits of Henna Brows
All-Natural: Henna is a natural vegan product that doesn't contain any bleach, chemicals, or ammonia, making it an ideal choice for clients with sensitive skin or allergies.
Highly Effective: Henna fills in gaps and covers gray hairs.
Fast Application Process: The henna brow treatment is simple and quick. Unlike henna tattoos, which require several hours for the dye to stick, with henna brows, the effect happens in under a half hour.
Durable: Henna brows are long-lasting, with results lasting up to six weeks, almost twice as long as traditional eyebrow tint.
Several Varieties: There is a myth that henna brows will turn the eyebrow hairs red. But by adding pigments to the henna, there is a wide array of shades to choose from, ranging from blonde to dark brown. This means you can select a color shade according to your skin tone, hair color, or preference.
No Commitment: Henna can be used to try out new brow shapes and shades before going forward with a semi-permanent process.
If you feel like the shape doesn't work for you, you only have to wait a few weeks and then you can switch shapes and shades easily.
Enhanced Appearance: With henna brows, your eyebrows will look denser and thicker, perfect for anyone with thin, sparse, or blonde brows. Henna is also an excellent option for clients with tattoo brows that have faded.
Book Your Appointment Today!
How Often Can You Henna Your Brows?
Henna brows typically leave a mark on the skin for seven to fourteen days, and the dye on the brows lasts 6-8 weeks, which is substantially longer than standard tints, which only last a month.
How long the henna stain lasts depends on the type of skin you have. Clients with oily skin will likely need to repeat the process more frequently as henna products generally don't mix well with oil. To resolve this, the brow expert will make sure your brows are cleaned thoroughly but if your skin is very oily, the henna tint won't likely last as long as it will for clients with normal or dry skin.
Are Henna Brows Right for Me?
One of the most exciting things about henna brows is that they are appropriate for anyone. A patch service test will determine whether the henna brow treatment is right for you. People associate henna with red hair but the pigments that are mixed in with the henna allow the treatment to create a variety of shades. So whether you're a blonde brunette or yes, even a redhead, henna will help not only fill in your sparse areas, but darken your brows to whatever shade you choose.
Who Should Not Have a Henna Brow Treatment?
If your patch test shows redness, soreness, or bumps, henna products may not be for you.
If there are signs of infection or eczema, you should not use henna products.
If there are scabs or cuts on the brow area, you should wait until the open sores clear before your henna brow treatment.
If you have a history of allergic reactions to henna products, do not use the product on your skin. Instead, try another brow treatment such as brow lamination.
Where Can I Can Henna Brows?
Specialist Skin Solutions is a skincare clinic specialising in a full menu of brow and lash treatments designed to help you love your skin. 
With personalized guidance by brow artists who share your passion for beauty, we offer you the latest treatments, technology and products in two ultra-comfortable, modern, contemporary settings. 
Our elite team of brow experts rely on cutting-edge treatments and years of training to administer a variety of brow treatments with the utmost precision and care in a relaxed, upscale setting.
Book Your Appointment Today!
Henna brows are everywhere. Here's what you need to know about the semi-permanent option
What is Henna Eyebrow Tinting?
How long do henna brows last?
How long does henna brow tinting last?
What does the henna brow process involve?
No Need To Use Makeup
How do henna brows compare to other temporary tintings?
Do I need a patch test?
Am I a suitable candidate for henna brows?
What's the difference between henna brows and regular brow tint?
Avoid Sun Exposure
Not Suitable For Everyone
Process of Henna Brow Tint
Stains The Skin
How To Prepare For Henna Eyebrows Treatment
Aftercare for henna brow tinting
Frequently Asked Questions on Henna Eyebrow Tints
Should You Use Henna If You Have Oily Skin?
Is Henna Eyebrow Tint Safe During Pregnancy?